Action Center
GroundSwell - Do something good for a change
The Pennsylvania state education budget is in crisis, having been cut by $1 billion since 2010. Locally, the cuts have financially distressed the School District of Philadelphia, which has asked City Council in its FY 2014 budget to provide an additional $60 million to schools. Come with us to City Council to show your support!
Without this additional funding, concessions from the unions and an additional $120 million from state legislature, Philadelphia public schools will be left with a bare bones budget, cutting instrumental music, art and music teachers, sports teams, nurses, secretaries, extracurriculars, and more.
GroundSwell, the Greater Philadelphia Cultural Alliance and Public Citizens for Children and Youth (PCCY) are working together to bring a coalition of arts education supporters, parents and school staff to City Council to show their support for increased public school funding and arts education. We will be at Council sessions every Thursday between now and mid-June. Council sessions begin at 10:00AM; we will convene outside of Council Chambers at 9:30AM. If you have time, please make a sign you can hold up during the session to show your support for public schools.
To RSVP for the May 23 session, click here.
---
Powered by the Greater Philadelphia Cultural Alliance, GroundSwell is a growing coalition of organizations and residents working to make our region a better place for kids to grow into adults, for families to thrive and for businesses to grow and prosper. We want cleaner and greener parks, more and better libraries, and a thriving arts and cultural community accessible to all. Our vision is grand, our hopes are high, our strategy is big, but our tactics begin small.
GroundSwell affects change from the ground up, one small action at a time. When you volunteer at a local community arts organization, help to clean up a community park, donate books to your local library, or even just pick up litter around your neighborhood, you are making a real difference and sending a clear message. Pride of place is contagious, and when you show that you care, you inspire others as well. Join now!
Click here to read more about GroundSwell.
---
"Like" GroundSwell on Facebook!
---
---
GroundSwell, our new community engagement initiative, is a grassroots movement to make Greater Philadelphia a better place to live, work and play. To get involved, to take action, to do things to support arts and culture, libraries, parks and public space to enhance the quality of life in our region Join GroundSwell and Do something good for a CHANGE!
---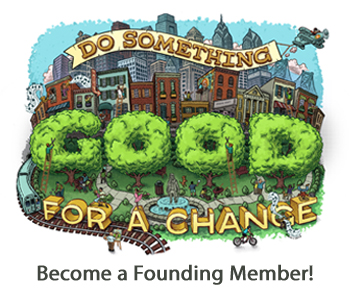 Help grow GroundSwell by becoming a Founding Member today!
Members who make a financial contribution of $25 or more gain access to exciting benefits, including our one-of-a-kind "Do Something GOOD for a Change" limited edition print created exclusively for GroundSwell members by local illustrator and artist Mario Zucca.
Like us on Facebook:
www.facebook.com/GroundSwellPA

Follow us on Twitter:
www.twitter.com/GroundSwell_PA

In 2001, the Schuylkill Center for Environmental Education launched an Environmental Art Department to connect vistors with thought-provoking environmental artwork as they experience the Center's 340 acres of preserved land. "We use our forests and fields as a living laboratory to foster appreciation, deepen understanding and encourage stewardship of the environment. Our art department is an inherent part of that process, allowing visitors diverse ways to experience and learn from nature," says Director of Environmental Art Jenny Laden. Since it was formed, the Environmental Art Department has showcased over 300 artists through a variety of indoor and outdoor exhibitions.
---
In 1996, Spiral Q was formed as a street theater advocacy movement by and for individuals living with HIV/AIDS. Their unique ability to successfully use art to spark dialogues quickly caught the attention of other communities, and now Spiral Q annually organizes and engages nearly 5,000 individuals in hands-on art making in support of a variety of issues and goals, with the work reaching estimated audiences of nearly 30,000 people throughout Philadelphia and beyond.
---
They say laughter is the best medicine—and 1812 Productions' Jennifer Childs is promoting the value of writing your own comedy prescription. Her Women in Comedy Project culminates in a month-long run of It's My Party, a three-part theater production exploring the changing ways women use humor as their lives evolve.
---
The Bearded Ladies Cabaret is a troupe of Philadelphia cabaret artists who use theater and entertainment as a means to confront and express issues and ideas of politics, gender, identity and more—with their own unique, glittery touch.
---
Raíces Culturales LatinoAmericanas, Inc., located in Northern Liberties, was founded in 1991 by a coalition of Latin American folklore dancers and musicians to represent and support all artists with Latin American backgrounds working and creating in Philadelphia.
---
ArtWell (formerly The Arts & Spirituality Center) is a nonprofit with a focus on helping kids and teenagers navigate the challenges of self-discovery and growing up. They partner with schools and other youth-oriented organizations to present arts-based curriculum where students learn to cultivate their own personalities and talents, honor and respect the abilities and strengths of their peers, and deal with challenges and conflict from a perspective of peace and trust.
---

It's no secret that schools throughout the Philadelphia region are struggling—and when cutbacks need to be made, arts programming is often first to go.
That's where The Clay Studio comes in. Since 1994, The Clay Studio's Claymobile van has traveled to schools throughout our region to deliver pop-up art classes to students in need. "The whole reason the program exists is that we'd rather have the art actually happen in the school and ideally we'd just be this add-on coming in for special projects that they wouldn't normally be able to do. We'd like to not be the only art students are getting, but unfortunately that's [often] the way it ends up being," says Annette Monnier, Outreach Program Director.
---
Did you know that in the last ten years, Philadelphia has seen a steady increase in bicycling and bicycle commuters? The Septa strike a few years ago certainly induced a spike in people biking to work, but plenty of Philadelphians are continuously being turned on to the economic, environmental and health reasons to incorporate bike riding into their daily routine—not to mention the pure fun of it.
Promoting biking (and walking, too) as a means of transportation, advocating for cyclists' rights, expanding safe biking routes, teaching bike safety practices and building a community of proud cyclists are all areas of work for the Bicycle Coalition of Greater Philadelphia.
---
Turns out the Northwest Philly artistic community is even more popping than we thought after learning about the hundreds of artists who came out of the woodwork for the Germantown Artists Roundtable networking party in early February—the three-year-old Mt. Airy Art Garage is growing every day to serve artists and connect with not only the Mt. Airy community as their name suggests, but also Chestnut Hill and Germantown.
---

Longtime residents of Germantown know there's a rich artistic community where they live, but there have traditionally been limited outlets for those creative minds to be showcased—there's no community arts center, and artistic venues in general are scarce (save for the Imperfect Gallery, which was recently successfully opened at 5601 Greene Street). In November 2011, the Germantown Artists Roundtable
formed to do something about that.

---
The GroundSwell launch event on January 21st, 2013 at The Arden Theatre was a vibrant, activity-filled celebration of arts, culture and community. Nearly 300 GroundSwell supporters came out to have fun, meet their fellow community advocates, and find out more about the GroundSwell mission to make Greater Philly a better place to live, work and play. GroundSwell unites all of our region's cultural assets—art, culture, museums, libraries, parks and more—and focuses community members around actions to benefit those institutions and projects to in turn improve quality of life in our region.

---