Research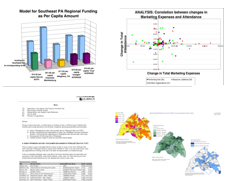 Briefs are short research pieces that address a particular issue or question. Many result from research requests from Cultural Alliance member organizations.
The list below and search function will help you browse through questions about audience development, cultural participation, economic impact, and many other issues in Greater Philadelphia that the Cultural Alliance has answered.
The Greater Philadelphia produces research relevant to the connections among arts and cultural organizations and our communities - including: the role of arts in education, the influence of creative industries on the economy, and the place of arts and culture in the lives of families.
If you have research request, please contact Nick Crosson, Research Analyst, at nickc@philaculture.org.
Research Briefs
| | | | |
| --- | --- | --- | --- |
| | Regional Employment in the Cultural Economy (2010) | How many people are employed doing artistic and cultural work at for-profit and nonprofit businesses in Greater Philadelphia? | Community Development & Economic Impact, Management & Administration, Research |
| | Arts Funding by Philadelphia and Some Peer Cities (2009) | How does Philadelphia compare to other cities in funding the arts? | Community Development & Economic Impact, Research |
| | Arts Funding by Philadelphia and Some Peer Cities Updated (2010) | How does Philadelphia compare to other cities in funding the arts? (Updated for 2010) | Community Development & Economic Impact, Research |
| | Number of Arts & Cultural Organizations in Greater Philadelphia (2010) | Q: How many arts & cultural organizations are there in the region? | Community Development & Economic Impact, Research |
| | 2009 Ticketing Software Satisfaction Survey - PHILADELPHIA | Philadelphia area survey results. Technology in the Arts at CAMT fielded a survey to learn about organizational ticketing software needs and to gauge how well current tools are meeting those needs. | Management & Administration, Marketing & PR, Technology |
| | 2009 Ticketing Software Satisfaction Survey | Technology in the Arts at CAMT fielded a survey to learn about organizational ticketing software needs and to gauge how well current tools are meeting those needs. National survey results. | Management & Administration, Marketing & PR, Technology |
| | How Much Does It Cost to Run an "Art House" Movie Theater (2008) | Frequently-asked question by community organizations. | Advocacy & Cultural Policy, Community Development & Economic Impact, Fundraising & Development, Research |
| | How Much Does It Cost to Run a Community Arts Center? (2008) | Frequently-asked question by community organizations. | Arts Education, Community Development & Economic Impact, Fundraising & Development, Management & Administration |
| | How Much Does It Cost to Run a Small Theatre? (2008) | Frequently-asked question by community theatres & organizations | Community Development & Economic Impact, Research |
| | Number of Arts & Cultural Organizations in Greater Philadelphia (2008) | Q: How many arts & cultural organizations are there in the region? | Community Development & Economic Impact, Research |