Research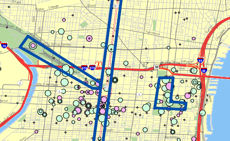 In addition to being fun to view, maps can easily convey a wealth of information about arts and culture in Greater Philadelphia. The Greater Philadelphia Cultural Alliance regularly produces maps about arts and cultural participation, economic impact, and the relationship between arts and cultural organizations and their communities.
The Greater Philadelphia uses GIS Mapping software to create maps. In addition to producing region-wide maps, we create custom maps to assist our member organizations.
If you have mapping needs, please contact Nick Crosson, Research Analyst, at nickc@philaculture.org.
Maps
New Year's Eve 2010 - New Year's Day 2011 Events Map

Looking for something to do this New Year's Eve or Day? Check out our map for a selection of events for ringing in 2011. Dance at an Aquarium - See some art - Go to a Concert -See the Mummers - party with DJ Jazzy Jeff!!!
All of these great choices and more from Phillyfunguide.com's Happy New Year! calendar.

Marketing & PR
2009 Holiday Events Map

Looking for something to do this holiday season? Check out our 2009 Holiday Events Map for a selection of arts & cultural holiday events for Christmas, Hanukkah, Kwanzaa, Solstice, and New Year's.

Marketing & PR

Arts and Cultural Organizations in Greater Philadelphia (2009)

Maps show the geographic distribution of arts and cultural organizations.

Advocacy & Cultural Policy, Community Development & Economic Impact, Cultural Engagement

Musicopia: Providing Music Education for Local Students (2009)

See where an Alliance member has held over 900 music programs for students.

Advocacy & Cultural Policy, Arts Education, Diversity

Arts and Cultural Participation in Greater Philadelphia (2008)

Percentage of residents participating in arts & culture.

Community Development & Economic Impact, Cultural Engagement, Marketing & PR

Where Do Artists Live in Greater Philadelphia?

Artists as percentage of all workers.

Community Development & Economic Impact