Research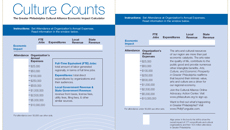 The Greater Philadelphia Cultural Alliance has built and collected a number of tools that are useful to arts and cultural organizations. These are listed below.
We offer access to these tools because organizations often need particular data about themselves or their effects. For example, economic impact will vary by organization. Please use these tools judiciously and contact the Cultural Alliance for any assistance you might need.
For questions about tools, please contact Nick Crosson, Research Analyst, at nickc@philaculture.org.