Primary tabs
"Don't Tune Us Out!": Philadelphia Area Arts Activists Rally in Harrisburg
On Tuesday July 14th, the Cultural Alliance took a bus full of Philadelphia area arts activists to Harrisburg for one sole purpose: rallying in support of arts funding in the Pennsylvania state budget.  The Pennsylvania Council on the Arts has been threatened by FY 2009-2010 budget proposals, which would wipe out funding for the agency completely.  The PCA's grants programs have supported arts organizations in the state with funding for crucial projects and programs.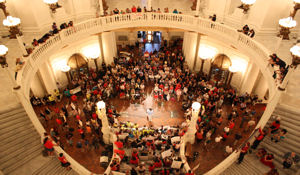 Armed with colorful signs, rousing chants, and musical instruments, the group joined hundreds of other activists from Pittsburgh, Erie, York, Allentown, and dozens of other counties across Pennsylvania in the State Capitol Rotunda. The extensive program included remarks from PCA Chairman Diane Dalto; a performance by The Dixie Hummingbirds; Mrs. Pennsylvania; Chambersburg Mayor Pete Lagiovane; State Senator Jay Costa, D-Allegheny; and Philadelphia area State Senator Anthony Williams.
The main tone of the rally focused on the economic impact of the arts on Pennsylvania communities, and the jobs that would be lost if critical arts funding were eliminated.  Senator Williams remarked that the arts are "central to a civilized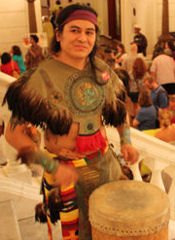 society," and without the arts, "you cannot have a commonwealth of peace."
Following the rally, the Philadelphia area activist delegation delivered information packets to all 81 Southeastern Pennsylvania legislative offices, reminding them to consider the $14 million for the Pennsylvania Council on the Arts in the state budget, the impact of the arts sector, and the myriad cultural groups in their districts.
The Governor and the General Assembly have yet to reach a budget compromise, but activists hope it will include the arts when all is said and done.
To view yesterday's live Twitter coverage from the rally, check out our feed here.
View more photos from the rally in the "Save the Arts" Flickr group pool here.