Primary tabs
Meet an Alliancer: Allie Vanyur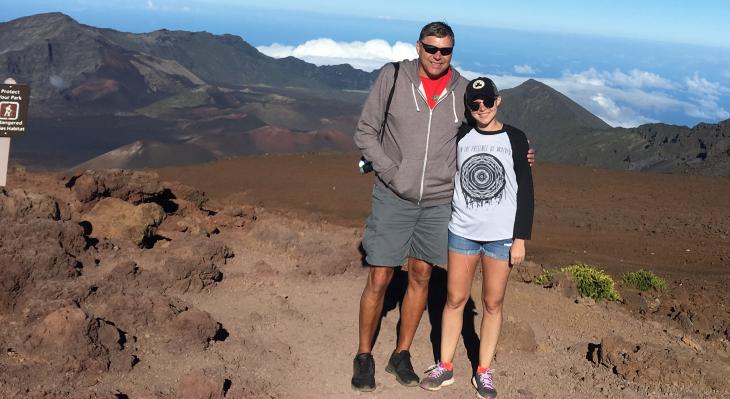 Photo: Allie and her dad atop the Haleakala Volcano in Maui.
Ever wondered what it's like to work at the Cultural Alliance? We'll introduce you to members of our staff! This month the spotlight is on Allie Vanyur, our grants and events manager! 
Job Title: Grants & Events Manager
Job Responsibilities: I have a multi-faceted role at the Cultural Alliance. I manage the Project Stream and Program Stream grant programs, which are funded by Pennsylvania Council in the Arts. I also help plan events across all departments of the Alliance, including the Annual Meeting which is attended by nearly 500 arts administrators each year. Lastly, I work with several other staff members to coordinate the STAMP program and I work directly with the eight amazing teens that make up the STAMP Teen Council.
Degrees/certificates: I have a Bachelor of Science in Entertainment & Arts Management from Drexel University, a minor in Business Administration and a concentration in Dance.
Past experience working in arts and culture: I previously worked at The Pew Center for Arts & Heritage as Communications Associate and at BalletX as Marketing & Communications Manager. While studying at Drexel, I was fortunate to intern with a number of local artists and organizations, including BalletX, Annenberg Center for the Performing Arts, idiosynCrazy Productions and Tania Isaac.
Favorite thing about working at the Cultural Alliance (so far): I love seeing how the Cultural Alliance's work truly makes an impact on the arts and culture sector at-large. Everything we do here, from advocacy to grant making to audience engagement, is in service of a larger goal to strengthen the cultural community and the Philadelphia region as a whole. None of that would be possible without the incredible staff who are the most collaborative, friendly and hard-working people I've ever had the pleasure of working with!
Favorite cultural institutions/attractions/events: As a former dancer, I enjoy seeing all of the amazing dance performances in the city! I also attend live music concerts at least once a week and have recently been diving into the city's vibrant public art. Some of my favorite Philadelphia institutions, to name a few: The Wilma Theater, FringeArts, Institute of Contemporary Art, Ardmore Music Hall.
A fun fact about yourself: I started dancing when I was just 3 years old and spent most of my life in the dance studio (almost every weekend I competed in dance competitions, full "Dance Moms" style). I was planning on continuing a dance career until I fractured my spine at age 16. I can't complain, though! Every day I get to work with artists in an incredibly fulfilling way.