How Corbett's Proposed Budget Affects Arts and Culture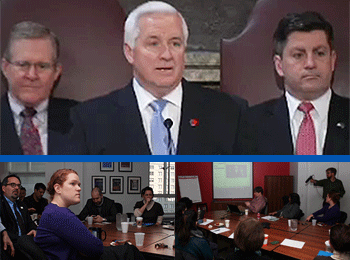 On Tuesday, February 7th, the Cultural Alliance was joined in its offices by representative from the Theatre Alliance of Greater Philadelphia, ArtsRising, Philadelphia Education Fund, Art-Reach, PCCY, Chamber Orchestra of Philadelphia and Dance/USA Philadelphia to watch Governor Tom Corbett's budget address and to analyze the impacts of his proposal on Pennsylvania's cultural sector.
The Cultural Alliance has combed through the budget documents to gauge the full impact of the Governor's proposal, which yields mixed results for the overall cultural community:
Level funding for the Pennsylvania Council on the Arts.
On the positive side, funding for the PCA has been maintained at $9.065 million, $8.179 of which is allocated to community arts grants.

Further Reductions for the Pennsylvania Historical and Museums Commission.
Once again, the PHMC has seen a reduction to its budget. Overall funding for PHMC was reduced by 3.6%, this includes a 5% decrease in funding for state historic preservation. PHMC's museum assistance grants remains at zero for a third year in a row, down from from $1.8 million in FY2010.

Funding for Zoos Eliminated.
Funding for the state's four zoos has been cut completely, down to zero from $450,000 in FY2011-12.

Arts and culture are crucial to Pennsylvania's economy and provide a great return on a minimal public investment. Our sector helps support 62,000 jobs, pumps $2 billion of spending into our economy, and generate $283 million in much needed local and state tax revenues. However, the sector is vulnerable during these tough economic times. Cuts in funding don't just undermine our economy and our tax-base, but mean fewer grants are available to organizations providing valuable community programs.
Please take a moment to
sign up for our Advocacy Center
to receive policy updates and action alerts. We need your support over the coming months as the state budget process moves through hearing in the House and Senate.
To read Governor Corbett's budget speech in its entirety, click here.

Download and read the full budget here.