Primary tabs
Interview: Chip Conley
Chip Conley is the founder and CEO of Joie de Vivre Hospitality, California's largest boutique hotel company which was founded in 1987. At the age of 26 with no industry experience, Conley created The Phoenix, taking a 1950's seedy motel and turning it into a world-renowned "rock 'n roll hotel" that catered to celebrities from David Bowie to Linda Ronstadt. Building on transformational leadership practices, and an innovative design formula that enables customers to experience an "identity refreshment," the company now consists of over 40 unique and award-winning hotels, restaurants and spas across California. In his most recent book, PEAK: How Great Companies Get Their Mojo from Maslow, Jossey-Bass, 2007, Conley shares his unique prescription for success based on Abraham Maslow's iconic Hierarchy of Needs.
The Cultural Alliance was thrilled to welcome Chip Conley as our keynote presenter at Alliance Day 2009: Get Your Mojo from Membership on May 7. Over 170 attendees gathered at the College of Physicians to hear Conley's presentation, "Understanding the Needs of Your Arts Customer by Chip Conley: Create transformative PEAK experiences for your customers."
The Alliance spoke with Conley recently about the hotel industry, the economy, and of course, arts and culture.
 
When designing a hotel, you typically draw inspiration from a particular magazine – Wired, The New Yorker, and Rolling Stone have all been muses – and five words that describe it. Can you pick a favorite arts institution (maybe one that is inspired by a particular magazine) and 5 words to describe it?
Alonzo King's Lines Ballet.  Audacious, lyrical, ethereal, humane, and inclusive. I'm not sure what magazine or combination of magazines would define this dance company, but what I do know is that when they get it right (which is much of the time), I come out of a performance feeling the depth and connection of the human spirit to something bigger than myself.
Does a weak economy make the cultural sector's strength at helping people to achieve self-actualization less relevant (or irrelevant altogether), since people are so focused on achieving/sustaining more basic needs?
This is a good question, and, on the surface, you could make a reasoned argument that a serious economic downturn means that the average consumer becomes more of a couch potato since they have less disposable income and television is free. Additionally, when you're worried about your survival needs, you don't spend a lot of time thinking about transformational art experiences. But, what I'm hearing in cities across the country is that most arts institutions are not seeing a precipitous decline in attendance. Why? Less than 10% of the country is unemployed and, while a large percentage of us may have some fear around our economic status, the reality is that the arts – generally – are still a bargain, especially when arts organizations create value-driven approaches to experiencing the arts. Most importantly, downturns tend to create humility and a desire to connect and they certainly also bring out our need to find meaning in our lives.  The arts are a perfect recipe during these times. And, so as cheap as entertainment is, no doubt, people want a distraction from their worries also.
What is your favorite hotel in Philadelphia?
Unfair question as I've only stayed in one Philadelphia hotel in my adult life and that is the Rittenhouse.  Love it for the location as that park is a jewel as is the quaint neighborhood.  Received a gracious note from the General Manager and a bounty of snacks in the room when I arrived, and the service was gracious, welcoming, and authentic.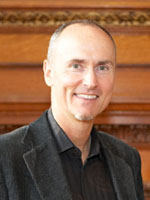 Are there specific techniques to customer service used in the hotel industry that arts and cultural groups should borrow?
Two suggestions: a. Word of mouth (and word of mouse in the internet era) is more important than ever as a means of putting people in your seats or heads in the beds at my hotels, so training everyone from the ticket takers to the ushers to the food concessionaires to the security staff at your venue to understand the importance of respectful and friendly service is essential, and knowing how to leverage your evangelists (those arts customers who loved their experience) by means of getting them to use various Web 2.0 internet sites to spread the word is a best practice; and b. think about who in your organization is the best "listening post" for understanding which of your customers are the evangelists and which are the potential "terrorists" (those who will tell everyone they know about their terrible experience) – within a hotel, we know that our bellmen have a unique opportunity to strike up a conversation with guests checking-in or checking-out and they can help gauge a customer's mood and report the results to an operational manager who can follow-up immediately… your listening posts might be your food concessionaires since intermission is when the customer truth comes out in a performing arts venue.
What is the most unique artistic experience you have had?
Chickenshed Theatre in London.  In north northern London, this theater company – which is well-known for working with developmentally-disabled aspiring actors – put on a show called "as the mother of a brown boy..."  The play covered many compelling, topical themes from what it means to be the parent of a mixed race child to modern crime and punishment in England to the confusing nature of our external identities.  The staging, script, and acting were inventive and provocative (at times, even uncomfortably provocative). At the end of the show, they invited the audience to come to the stage and join one of three different groups – which included the actors and the artistic staff – talking about the three key themes of the play. Of the 250 attendees, 150 stayed and our group had a sort of college dorm room all-nighter kind of talk.  We were there 'til 3 in the morning debating and conversing about our experience with a collection of foreign strangers we'd never met but with whom we'd shared a transformative experience.