Primary tabs
Membership: Speaking With a Collective Voice
This year, the pressure on cultural groups to make ends meet has never been greater.  Organizations are justifiably looking at every budget expense—including spending on dues and memberships—to see where to trim costs.  Here's why being part of the Cultural Alliance's membership is so important to the region's cultural sector and to your organization right now:
Because our sector is under attack.  Funding for culture remains threatened because many people still view the arts as an amenity, not a necessity.  At the Cultural Alliance, we wake up every day reminding people how essential arts and culture is to the region—because of its impact on children, on Main Street, on major employers seeking to attract (and keep) the best and brightest workers, and on creating a sense of place that is uniquely Philadelphian. 
Because we need a central voice to help lead the fight.  The Alliance's efforts take many forms, including meeting with elected officials, organizing rallies, obtaining funding for the field, and making the case to the general public through our media and PR efforts.  Commenting on the Alliance's recent testimony to the state legislature about a bill eliminating arts and culture funding, a member told us: "Having just digested your recent superb testimony re. the horrific SB 850, I write to send thanks.  As a long-term, passionate trustee of (an area cultural group), I think …you said what desperately needed to be said."  Rep. Evans (D-203) thanked Alliance staff for "bringing the human element of the budget process to the table."
Because when times are tough, we have to work together.  More then ever, cultural groups are recognizing the value of collaboration to increase visibility, build audiences, and expand our reach.  The Cultural Alliance runs many programs that help make that happen, including the List co-op, Phillyfunguide, and Funsavers.  One member that uses the Alliance's List co-op vendor, TRG, for its own data needs, calls the program "a win-win because it increases TRG's investment in our city and we end up getting great service for the community as a whole."  Members also value Phillyfunguide and Funsavers because those programs provide a centralized marketing resource that raises awareness (and revenues).  Groups tell us: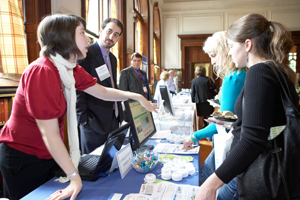 "Phillyfunguide is a great tool. Before we started listing our events (there), our audiences were comprised mostly of other artists…and friends/family of performers. We're getting more and more 'outsiders' - i.e., people who have no direct ties to the show other than appreciation of the arts - every time, and we're selling more tickets."
"I appreciate the weekly Funsavers email as both a participant, for the expanded, and oftentimes, new audiences it brings us, and as a consumer who looks forward to its weekly arrival to see what fabulous deals are on the menu for the week to enjoy with my family."
"After almost 150 events…, we had really begun to see our attendance plateau. Ever since we joined Funsavers, we've been having capacity crowds filled with many first time visitors. FunSavers helped our organization connect with many new people - and the best part is that we're seeing them come back!"
 
Because leading an organization in the best of times, let alone through a recession, can be a challenging and sometimes lonely experience.  To help spark creativity and break down barriers of isolation, we need the inspiration and support of our peers and of thought leaders.  Cultural Alliance convenings and workshops ensure there is a forum for that inspiration, peer support, and connection.  For our Leading in Turbulent Times forum last Fall, attendees told us: "beautifully put together"…"'normalized' the situation for people"…"inspirational day"…"useful ideas"…"impressive to see how you turned this crisis into a learning opportunity (with a) constructive spirit."  A CEO who attended a leadership forum as part of Alliance Day with Chip Conley this spring told us: "sharing lunch with that broad cross-section of Philadelphia cultural leaders was a top of the pyramid moment for me."
Because when resources are scarce, the margin for error grows smaller.  Managers must have good information to make good decisions, and the Cultural Alliance, through its research and information services, provides the tools and data members need to stay abreast of industry trends.  Attendees at our Fall 2008 Breakfast Club roundtable told us, for example, that Portfolio data would benefit their work by "strengthening our case for support and for benchmarking"… "(helping us) look at our current operations and what we may want to modify given the current climate"…  "energizing board involvement"…and "support(ing) strategic planning decisions."  Philebrity, a local "cultural happenings" blog, recently lauded the Alliance for "the great work…on the Cultural Engagement Index, (which) will be invaluable for anyone involved in the worlds of Arts & Culture here in Philly.
The cultural sector faces many challenges, but together we can continue to make the case that the arts are resilient, a sound investment, a distinguishing competitive advantage for our region, and a vital part of Greater Philadelphia's future.