Primary tabs
Comin' Out from Cali: Renowned Huntington Library Visits Heirs of Franklin, Rosenbach
The Californians are coming! The Californians are coming!
Actually, they already came. We caught up with staff and members of Southern California's famous Huntington Library as they toured the Rosenbach Museum and Library and the Library Company of Philadelphia. Among the Huntington's own vast collections are world-class rare book, manuscript, and print collections, which made fitting their visit to the Rosenbach to peruse some of its incomparable rare books and manuscripts (such as Joyce's Ulysses) and the Library Company to see the print exhibition, Philadelphia on Stone: The First Fifty Years of Commercial Lithography in Philadelphia, 1828-1878, which has been getting rave reviews as a part of Philagraphika 2010.
 
Who knew they even HAD Teal in 1860?
While viewing the Library Company's current Philadelphia on Stone exhibit of lithographic prints from the 19th Century, the Huntington guests were able to see the exceptional quality and surprisingly bright colors from Philadelphia's 19th Century printers. Associate Curator Erika Piola noted, "Some of the most impressive work of the printers was printed as advertisements for the printers themselves and those commissioned by commercial patrons." (You can almost see the fantastic gold-and-teal combination in the case in the accompanying photo, but for a true look, visit the exhibit.)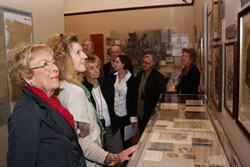 In addition to seeing the Library Company's current exhibit, Huntington guests were treated to behind-the-scenes tours of rare books with Librarian Jim Green and Executive Director John Van Horne. Although members of the Huntington undertake such trips on a semi-annual basis, including recent visits to Spain and Italy, Huntington's Director of the Library David Zeidberg explained, "I was very happy that 'my turn' to enjoy one of our visits came up this time. The Library Company's collections on the history of the Republic are just fabulous."
For visitors who are also scholars and collectors of rare books and manuscripts, what could be better than a chance to peruse rare books with those who know them best – except perhaps a second such visit.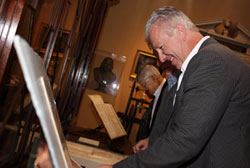 Mr. Rosenbach's Best Customer
The Huntington Library's founder was Henry E. Huntington, a businessman who built a financial empire on railroad companies, utilities, and real estate holdings in Southern California. As the Rosenbach's Director Derick Dreher explained, "Henry Huntington was Mr. Rosenbach's most important customer. From 1911 to 1927, he purchased $4.3 million in books and manuscripts. Mr. Huntington' backing enabled Rosenbach to complete the famous 'Hulford sale,' which brought many notable books into both mens' collections – including the Gutenberg Bible in the Huntington Library."
Many of the visitors from the Huntington are members of the Library's Collectors' Council or Society of Fellows, volunteers and funders who help steer the director of the private, nonprofit institution. Among the Fellows were Pasadena residents Ken and Erika Riley. Along with other members of the Society, they enjoyed an intimate gathering with Rosenbach curators, who (very gingerly) passed around some rare books from 1920s American ex-patriots living in Paris. As Mr. Riley noted, "We have been involved with the institution [the Huntington] for many years, with Erika starting her involvement as a docent. Trips like these are undertaken somewhat frequently to other institutions. It is helpful for those of us involved in helping the Huntington make choices about what to purchase for its own collection to see what is at places like [the Rosenbach]."