Primary tabs
Cultural Alliance staff members join Team Peggy to help fight cancer
Posted By
Wednesday, September 15, 2010
In 2008, as Peggy Amsterdam sought the best treatments available for the very rare cancer that had invaded her body, her search took her to the Dana-Farber Cancer Institute in Boston. Though Philadelphia is rich with high quality health care resources, the rarity of her sarcoma meant that the experts on her disease were few and far between, and so she traveled to Boston several times to participate in clinical trials to address her illness. Her close friend, Holly Levy, frequently traveled with her, and both were impressed with the quality and warmth of the care. They planned to participate in this year's Jimmy Fund Walk, one of the Institute's major annual fundraising events, even though they knew that Peggy's advancing illness might mean Holly pushing Peggy in a wheelchair.
Sadly, Peggy died in December of 2009. Speaking at her memorial service, Holly invited Peggy's friends and family to to participate in the 2010 Jimmy Fund Walk as part of Team Peggy, one of the many memorial teams that walk Boston's renowned marathon course. Holly set a fundraising goal of $10,000 for the team, and Peggy's friends and family rose to the challenge, ultimately pushing the team's total over $11,000.
Cultural Alliance staff members Nancy DeLucia, Susan Weiss and April Williamson, as well as former staff member Tamar Lelkes, joined Team Peggy. Other team members included Peggy's two sons, David and Jon, and granddaughter Elizabeth, as well as other relatives and friends. "Virtual walkers" from the Alliance's staff and board also helped raise money, and donations came from many whose lives had been enriched by Peggy's warmth, empathy and vision.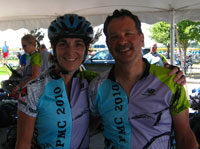 For Nancy DeLucia, it was the second time this summer that she stretched her legs to raise funds for Dana-Farber in Peggy's memory. In August, she and Bob Spiegelman, a cousin of Peggy's, completed the 163-mile, 2-day Pan-Massachusetts Challenge bike ride. The two of them raised over $10,000 for the Jimmy Fund.
 More Team Peggy stuff: