2011 Portfolio Key Findings
The show must go on...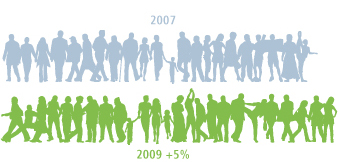 The arts remained affordable in the recession. Pricing was stable at a median admissions price of $15.
Activity was up. During the recession, attendance increased 5%, while the number of events remained stable.
Expenses remained essentially flat, but revenues dropped. Revenues fell 12% (excluding investments). Including investments, revenumes fell 43%.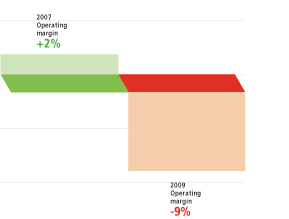 Almost half of Portfolio organizations are in the red. Operating margins (excluding investments), which had been thin in FY2007 (+2%), became negative in FY2009 (-9%).
In making hard workforce decisions, organizations made deeper cuts to administrators than to artistic and programmatic staff.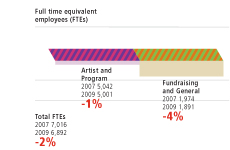 Employment changes left cultural workers and organizations vulnerable. There was a 16% growth in the number of independent contractor positions and a 2% drop in full-time equivalents (FTEs). Currently, only 4 in 10 (39%) cultural positions offer full-time employment.
Organizations deferred maintenance to keep the doors open. Expenditures on facilities-related categories, including major repairs, declined by 44%.
Organizations had less margin for error. Working capital fell 24% and liquid assets declined 12%.

…because people value arts and culture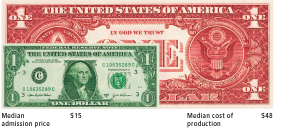 The arts are more accessible than ever. Admission prices to cultural organizations are significantly less than the actual cost to organizations of producing events and performances. For organizations that charge admission, the median cost of production ($48) is three times higher than the median ticket price ($15).

There are almost 17 million visits to cultural organizations each year. This is equivalent to more than four visits for every resident of Southeastern Pennsylvania. More than half of all visits (52%) are free.

Culture extends the classroom. There were 34,000 visits by school groups to cultural organizations.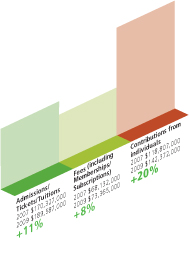 Individuals saved the day. Individuals proved to be the greatest source of support for cultural organizations during the recession. Admissions, tickets, and tuition revenue rose 11%, and memberships/subscription fees grew 8%. Individual donations rose 20%, while all other sources of contributed income declined.
Volunteers are the unsung heroes of the industry. The total number of volunteer and board positions (32,000) outnumbers total employment positions (24,000), with volunteers accounting for 30% of the total work hours for the field.