'Patron Loyalty Study' Reveals New Data on Museum and Performing Arts Audiences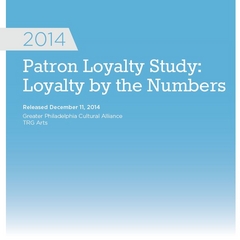 Philadelphia--The Greater Philadelphia Cultural Alliance has just released an in-depth study of patron loyalty in the arts. The new report, the 2014 Patron Loyalty Study: Loyalty By the Numbers examined the financial transactions (including ticket sales, memberships and donations) of almost a million Greater Philadelphia households, using seven years of data from 17 major cultural attractions in the region. One of the key findings of the report is that, despite the sector's focus on developing new audiences, the erosion of current audience loyalty represents one of the most significant financial risks for cultural groups.
The study found that less than 3% of patrons generated over 62% of total patron revenue. However, spending by this small but powerful group of patrons declined 12% throughout the study, driven by a decline in primarily donor activity/revenue.
"While expanding audiences remains critical for the long-term," says John McInerney, Cultural Alliance Vice President of Marketing & Communications. "Retention and engagement of current audiences may be the most important strategy for an organization's bottom line."
At the same time revenue from the most loyal patrons declined, new audiences remained difficult to retain. Half of all patrons in the study were new every year, but rarely returned after just one visit—70% of new patrons never returned to any of the 17 groups in the year following their first visit.
However, encouragingly, the study also suggested that collaboration and the sharing of resources could be an effective strategy to engage top-level patrons. Over 90% of top-tier Advocates were active at between 2 and 7 organizations in the study, with most making multiple transactions. Sharing information about engaged patrons across the community could help groups target the patrons in their own database that were most likely to become more engaged.
"This data is crucial for encouraging arts and culture organizations to work collaboratively to engage audiences," says McInerney. "One of the most compelling things we found is that, the more a patron becomes involved across the community, the more likely they are to increase their commitment to their most favored organizations. Greater sharing of data, collaborative marketing, and cross-promotional strategies stand to benefit the entire sector."
Working with TRG Arts, the Cultural Alliance compiled the Patron Loyalty Study through analysis of 7 years of transactional data from 17 cultural nonprofits (divided into two groups: Museums and Performing Arts), amounting to over 980,000 unique patrons. These patrons were then ranked and sorted based on the recency, frequency and total monetary investment of ticket purchases, subscriber and membership activity, and donations. Patrons were categorized into three core groups: Advocates (patrons with "frequent, recent and significant activity"), Buyers ("subscribers, members, and recent single-ticket buyers") and Tryers ("single-ticket buyers and memberships").
In addition to ranking and scoring patron behavior across the community, the study also gave each of the 17 groups their own proprietary patron loyalty analysis, ranking their patrons and segmenting them as in the community analysis, providing another tool to inform direct marketing, donor cultivation and other strategies.
"We have already used this information to inform our marketing and customer engagement strategies," said Kimmel Center Marketing Vice President Crystal Brewer. "Not only did the study look at broader trends for the field, but it analyzed and scored our patron activity across multiple departments, giving us another important tool to recognize the most engaged and valuable patrons for the Kimmel."
The Alliance will continue to build upon these findings, further examining how it may support the creative sector in efforts to engage and retain patrons, and also encouraging the collaboration and cross-sharing that will lead to greater strengthening the cultural community. Given the depth of data and regional nature of this study, the Alliance believes its analysis may have implications for communities around the U.S. The Alliance will continue exploring the trends in this study and its
2014 Portfolio
research report nationally this spring with the release of its next research report,
Portfolio: Culture Across Communities
.
Culture Across Communities
will be a cross-regional comparison of benchmarks for 10 additional cities across the country, supported by a grant from the Doris Duke Charitable Foundation.
The 17 Museums and Performing Arts groups who participated in the 2014 Patron Loyalty Study are:
PERFORMING ARTS
Annenberg Center
Arden Theatre Company
FringeArts
Kimmel Center
Opera Philadelphia
Pennsylvania Ballet
People's Light and Theatre
Philadelphia Orchestra
The Wilma Theater
MUSEUMS
Brandywine River Museum
Franklin Institute
Independence Seaport Museum
Longwood Gardens
Penn Museum
Philadelphia Museum of Art
Philadelphia Zoo
Please Touch Museum
The 2014 Patron Loyalty Study was produced by the Greater Philadelphia Cultural Alliance with support from TRG Arts, and was made possible by the William Penn Foundation.
ABOUT THE GREATER PHILADELPHIA CULTURAL ALLIANCE
Established in 1972, the Greater Philadelphia Cultural Alliance is the region's leading arts and cultural advocacy, research and marketing organization. Our mission is to "lead, strengthen and give voice to a diverse cultural sector that is making Philadelphia a world-class region to live, work, and play." Our membership includes over 400 organizations ranging from museums and dance companies to community art centers, historic sites, music ensembles and zoos. Our members, as well as the cultural community as a whole, count on the Alliance for signature research reports on the health and growth of the sector; grantmaking in partnership with the Pennsylvania Council on the arts; robust professional development and membership services; marketing and audience development through our signature consumer marketing programs, Phillyfunguide.com and Funsavers; and leadership in policy and community engagement through our GroundSwell advocacy initiative and STAMP teen program. For more information on the Cultural Alliance, please visit
www.philaculture.org
.