Meet an Emerging Leader: Josh Darfler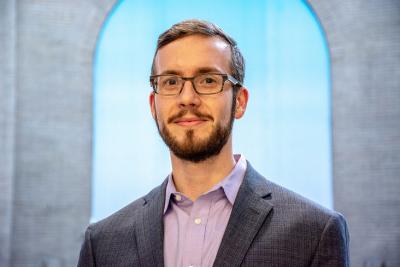 About you: Originally from the finger lakes region of New York, I attended college Binghamton University where I received my B.S. in cellular and molecular biology and a minor in environmental studies. Upon graduation, I moved to Philadelphia and was hired for a one-year propagation internship at the Morris Arboretum of the University of Pennsylvania. I returned to school to recieve my M.S. in Public Horticulture from the Longwood Graduate Program in Public Horticulture at the University of Delaware. Since then, I have worked at the Pennsylvania Horticultural Society's Meadowbrook Farm, and then at the University of Pennsylvania as the Greenhouse and Garden Manger for the Department of Biology. A recent promotion to Department Manager has me overseeing all non-academic functions of the department. Outside of work I enjoy cooking, running, saying yes to new experiences, and learning about or teaching horticulture, botany, and plant nomenclature.
Job Title & Organization: Biology Department Manager, University of Pennsylvania
Degrees/Certifications: B.S., Cellular and Molecular Biology (Binghamton University); M.S., Public Horticulture (Longwood Graduate Program at the University of Delaware)
Professional Affiliations: American Public Garden Association, American Horticultural Society, Association of Education and Research Greenhouses
Board Service: Rare Plant Auction, Delaware Center for Horticulture (Plant Selection Committee); Philadelphia Flower Show Horticulture Committee, Pennsylvania Horticultural Society (Vice-chair of Horticulture Passing); Plant Nomenclature and Taxonomy Section, American Public Garden Association (Secretary)
What keeps you engaged and passionate when it comes to arts and culture?
Arts and cultural institutions are, in my opinion, the ideal space to engage with and to educate the public on a wide variety of topics. The arts and culture sector brings people from across the spectrum of life into shared spaces where new ideas and different perspectives can be shared. Botanical gardens are places where scientists (botanists, ecologists, conservationists, etc.), artists, and the public all come together to make lasting connections and impacts on a place. As I have moved into managing a scientific research and education department, I continue to be motivated by helping scientists and the general public connect in meaningful ways to create lasting impacts.
What do you find most valuable about being an ELC member?
The ability to meet and talk with other passionate emerging leaders and learn about what is happening in the broader context of the city is not only interesting, but I think vitally important for the collective growth of the arts and culture sector. Learning how others tackle common problems, and being able to contribute solutions from my experiences, is a great way for me to maintain a larger view on life and not get bogged down in the details of my day-to-day. Being an ELC member provides me an opportunity to expand my perspective and to gain unique cultural experiences around the city.
Tell us a fun fact about yourself.
My two back-up professions (in case horticulture doesn't work out) are acupuncture and accounting. Other than that they both start with the letter "a" I realize there is not too much overlap between the two, but they both are appealing to me in different ways - I do love a good spreadsheet.