Chester County Arts Leaders Launch Cultural Coalition
New Group Complements Longtime Efforts in Delco
Signature Image: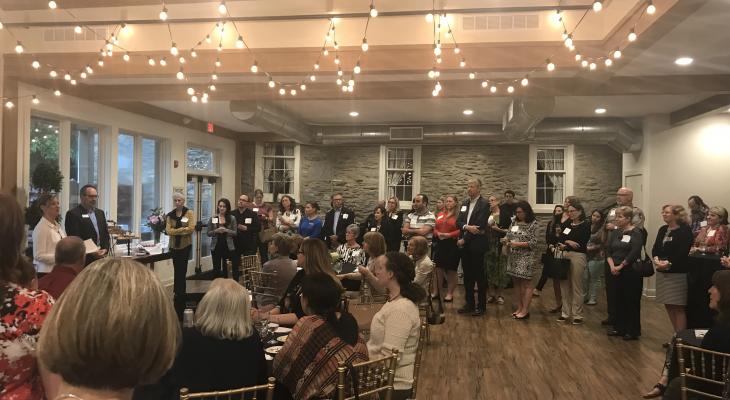 On June 10 nearly 60 cultural leaders and arts supporters gathered for a reception at People's Light in Malvern to celebrate the launch of the Chester County Cultural Coalition. Sponsored by the Chester County Community Foundation, the reception featured remarks from Chester County Commissioners chair Michelle Kichline, who spoke of her life-long interest in the arts and the many positive impacts arts and culture has on county residents.
The mission of the Chester County Cultural Coalition is to elevate the profile of Chester County's arts and cultural organizations by strengthening the connections local organizations have to each other and to the larger community. It will be a forum to network, learn, share information and collaborate on collective efforts to promote awareness and strengthen all of its members.The mission and goals of the coalition were informed by a thorough planning process that included a survey of cultural leaders and interviews with officials from government, economic development and the private sector. The Cultural Alliance is providing technical assistance to the coalition, but organizations don't have to be members of the Cultural Alliance to participate in the coalition and there is no fee to join the coalition.
The first working meeting of the Chester County Cultural Coalition is scheduled for Monday, September 16, from 9:30-11:00 a.m. at Longwood Gardens.
The Chester County Cultural Coaltion was modeled in part on the Delaware County Arts Consortium, whihch has met regualrly for the past decade and built a vibrant network of organizations of every size and discipline that are committed to working together to strengthen Delaware County's cultural sector. DCAC members are now hard at work putting the finishing touches on the inaugural Delco Arts Week, which takes place in September. For more information go to www.delcoarts.org.