Annual Report
July 1, 2013-June 30, 2014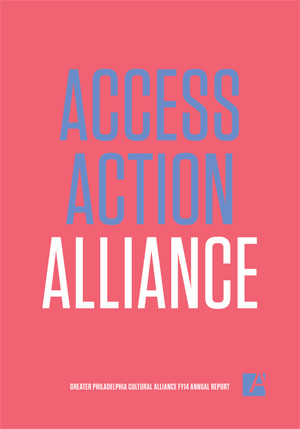 ​The Cultural Alliance is pleased to share this update of our activities and financial performance from Fiscal Year 2014 (July 1, 2013-June 30, 2014). The Alliance remains on solid ground, with a safe operating reserve, no debt and membership of over 400 organizations.
The activities and achievements highlighted in this report reflect our continued focus on providing critical resources for the arts and cultural sector, in response to the needs of our members and the community. We want to express our sincere gratitude to our stakeholders who made this work possible: our members, funders, advocates and the community at large.
We welcome your feedback on this report, and encourage you to share it with your peers, board and staff. Looking ahead, we count on your continued partnership in our efforts to make our city and region one of the world's foremost creative and cultural capitals of the world.
Click here to read the 2014 Annual Report, brought to life by J2 Design Partnership.
To download past reports in PDF format, click the links below: