Primary tabs
Meet an Alliancer: Lauren Gilmore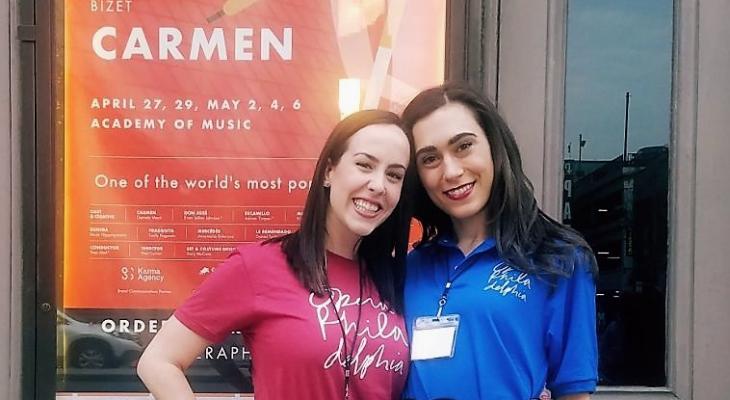 Ever wondered what it's like to work at the Cultural Alliance? We'll introduce you to members of our staff! This month the spotlight is on Lauren Gilmore, our manager of membership and administration! 
Job Title: Manager of Membership & Administration
Job Responsibilities: Being the liaison to our remarkable Membership organizations is one of the main functions of my role at the Greater Philadelphia Cultural Alliance. As a part of that work, I also maintain our robust Job Bank, which draws such bright talent to our community. One of the things I'm excited to do in this position is incorporate the Diversity, Equity and Inclusion findings and initiatives that the Cultural Alliance has identified into how our Job Bank functions. When I'm not busy with those things, I get to work closely with Stuart Adair and Maud Lyons to support the important work that they do; their expertise and vision inspire me on a daily basis.
Degrees/certificates: Graduate studies brought me out to the east coast where I pursued my Masters of Music in Voice Pedagogy & Performance at Westminster Choir College. Before that, I was in the Midwest and attended St. Norbert College. My undergraduate degree is in Music Education.
Past experience working in arts and culture: With my background in music education, I taught middle and high school choir in Wisconsin for five years! As is often the case in small districts, this also meant that I helped to direct our dramatic productions. One thing I'm really proud of in my work there was creating and teaching an AP Music Theory course offering. Having a passion for teaching individual voice, I decided to make the move to Westminster Choir College. While a student there, I also worked in our Office of Admissions. I had always loved being on the administrative side of arts and culture, and through my service in that office, I had the opportunity to continue working there following my graduation. It was an honor to usher in the new generation of aspiring singers and have the opportunity to collaborate with the fabulous faculty there.
Favorite thing about working at the Cultural Alliance (so far): It would genuinely have to be the opportunity to work with people who are so passionate about the arts and cultural scene of Philadelphia. Not only are they incredibly talented, they also make all of the things that we do here at the Alliance a joy to tackle. I am also lucky enough to get to interact directly with our member organizations and support the efforts of our President. Being able to see the scope of what we can achieve organizationally as well as have those daily connections with our members gives so much meaning to my work and definitely keeps things interesting!
Favorite cultural institutions/attractions/events: There is absolutely no way I could even try to narrow it down, and I think that's one of my favorite things about Philadelphia! There are so many amazing institutions across all facets of arts and culture, and no matter the time of year, there is always something to check out or do. I am someone who likes to be able to take in a little bit of everything;  I am curious about and appreciative of so many different things, and the arts and cultural offerings of Philadelphia keep me quite busy and engaged!
A fun fact about yourself: One of the ways in which I stay so busy and engaged in the arts and culture scene is by volunteering. I love being a part of the communities of our rich cultural institutions, whether it's the staffs that help them to flourish or the avid audiences who are so committed to and supportive of them. It is also a privilege (and A LOT of fun) to help bring their events and mission to life!