Primary tabs
Job Bank FAQs
Q: How long will my job posting stay active?
A: Job postings are active for 30 days.
Q: Can I remove a job before it expires?
A: Yes! Your organization's job history can be accessed in your Philaculture account. Under My Dashboard Links, select My Alliance. From there, select the My Jobs dropdown menu and Job History. Here you can click "expire" next to the post you wish to remove.

Q: Can I edit an existing Job Bank post?
A: Yes! If you know the link to the job posting, find it and select the "Edit" tab at the top. If you don't know the link, go to Job History in your account and select "edit" next to the job posting you wish to modify.
Q: Can I re-post a previously expired job posting?
A: Yes! If you go to Job History in your account, you can select "re-post" next to any job. After you do this, be sure to reach out to info@philaculture.org to let a Cultural Alliance staff member know which job you are re-posting so that the timestamp on the post can be made current.
**Please note that non-member postings will require additional payment for re-posting.**
Q: How long does it take for my job posting to be live?
A: It can take up to takes a few hours for a Job Bank posting to become live, because the cache on the website needs to clear. This is an automatic process that occurs every three hours.
Q: How many weeks can I have a Premium Post?
A: You can request for a job posting be a Premium Post for 1 - 4 week(s) depending on availability and your budget. 
Q: Will my job post still remain on the Job Bank for the week(s) it isn't featured as a Premium Post?
A: Yes! The Job Bank post will still remain active for the full month. It will appear listed under the date on which you originally posted the position after the Premium Post has expired.
Q: How do I pay for a Premium Post? 
A: Indicating your preference for a Premium Post when you complete the Job Bank form will alert one of our staff to contact you for credit card payment over the phone. If you have any questions, please contact Lauren Gilmore at laureng@philaculture.org or 215-399-3530.
Q: Where will the Premium Post appear?
A: The Premium Post will appear as one of two top listings on every page with a blue 'highlight' box around it.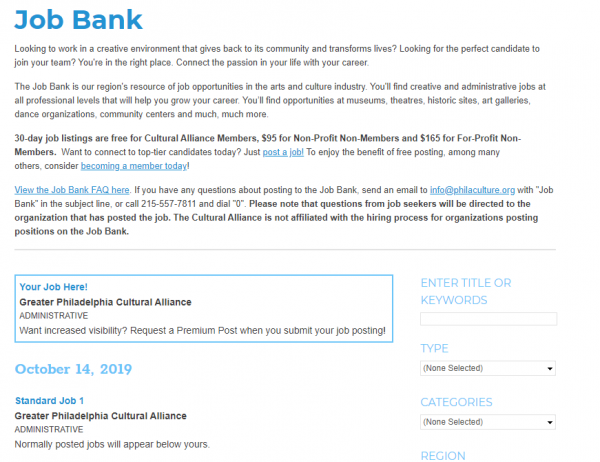 Need more help? Send an email to info@philaculture.org with "Job Bank" in the subject line.