Primary tabs
Member Spotlight
Acting Without Boundaries
Posted By
Monday, February 14, 2022
Categories
Signature Image:
LEARN MORE ABOUT ACTING WITHOUT BOUNDARIES
Acting Without Boundaries (AWB) is a unique year-round theatre program which provides an open forum for the creative and artistic expression of children, teenagers, and adults with physical disabilities. The goals of AWB programs are to provide a platform for self-expression, build a community of support for people living with a disability, promote disability awareness, improve access, increase inclusion and build acceptance for a marginalized population of people.
AWB's staff and curriculum bring forth the highest of industry standards as all projects and performances include high-end operations that match those of a professional peer theatre arts organization.
Participants come from diverse ethnic, geographical, gender and financial backgrounds. Ages range from 4 years to 50+ all of whom have at least one Physical Disabilities which include: hearing impairments, vision impairments and those with Cerebral Palsy, spina bifida and other genetic disorders which cause a physical disability by birth or accident. We have expanded our programs and services over the past three years to now serve older adult participants through the AWB Master and AWB Acting Lab programs.To learn more about AWB, visit our website!
The AWB live performance of Meet Me in St. Louis will be held on Sunday, April 3, 2022, at Centennial Hall, Haverford Boys School at 4pm. 
Follow the link to purchase tickets to the performance: https://events.r20.constantcontact.com/register/eventReg?oeidk=a07ej13kgi160e33a4c&oseq=&c=&ch=

Below are descriptions and video links to AWB Programs:
AWB ACTING LAB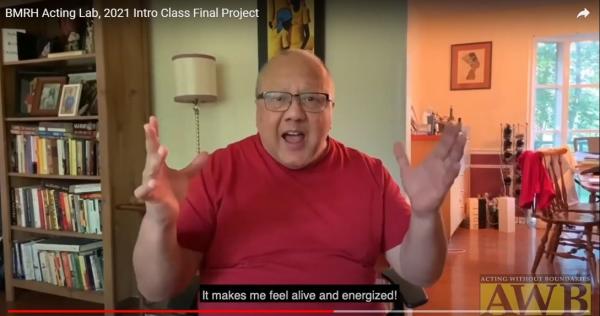 Through the AWB Acting Lab, we share AWB's nearly two decades of expertise and help others realize the therapeutic benefits of the performing arts.  The Acting Lab enables us to teach on-site, at care institutions serving people with physical disabilities. Collaborating with these great organizations has allowed us to expand our reach on a broader scale.
Watch the original performance written and created by the students of Inglis Day Program in the AWB Acting Lab!
AWB MASTERS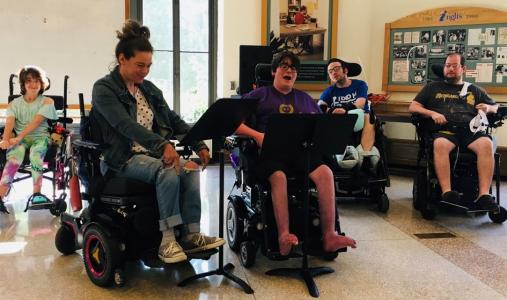 The mission of the AWB Master's program is to provide an immersive conservatory experience in the theatre arts. This program provides thorough and comprehensive training to obtain the skills of a professional theatre artist. Each year one discipline of the craft is chosen as the focus of the program. In 2021 we chose Musical Theater and collaborated with Terry Nolen the Founder and Artistic Director of The Arden Theater.
See AWB Master Program in the news- 6abc June 2021!
AWB JUNIORS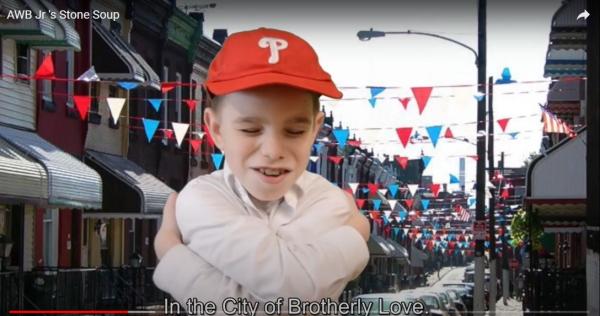 The actors of the AWB Junior program are the youngest thespians at AWB. Established in 2008, the AWB Juniors is the first stepping-stone of the AWB program. Actors, beginning as young as age five, gather each month to rehearse and prepare for an annual musical. These young actors, collaborate to create the script, write the lyrics to the songs, and bring their characters to life! Junior actors rehearse for nine months culminating in a musical in the spring. During this process, the actors build skills in teamwork, public speaking, and confidence. Friendship's form, and they just have fun! 
Watch the 2021 AWB Juniors Performance of Stone Soup!
AWB MELODIES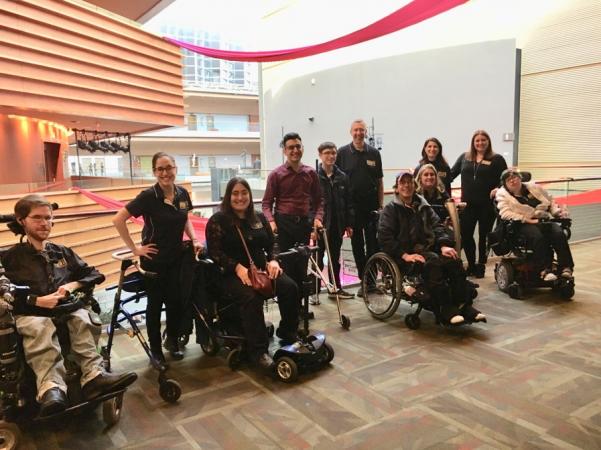 The AWB Melodies Program allows AWB to live out its important mission of sharing what people with physical disabilities can do! It also opens conversations and facilitates a broader community awareness around people with physical disabilities. It also encompasses our "gigs" where we do smaller performance with other organizations. During the pandemic we created a web series called Spotlight 180 where we interview our performers, staff, organizational partners and friends of AWB so people can learn more about AWB and our actors.
Spotlight 180, Episode 6 on YouTube
AWB HERO AWARD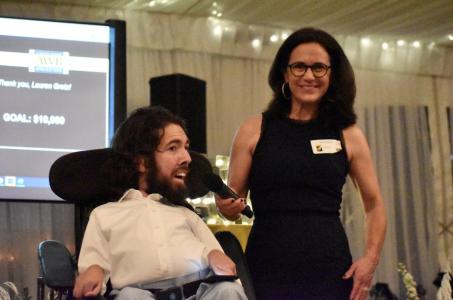 The AWB Hero Award is an annual celebration of a person in the community who may not otherwise be acknowledged for their contributions. The AWB Hero Award is given to a community leader with a physical disability who displays remarkable efforts to overcome adversity, enhance awareness, reduce stigma, and increase community access for disabled individuals. It is also AWB's major fundraising gala and must raise one third to one half of its annual operating budget. This past year AWB celebrated Jimmy Curran (pictured above).
View the 2020 Virtual Hero Award!
AWB SENIORS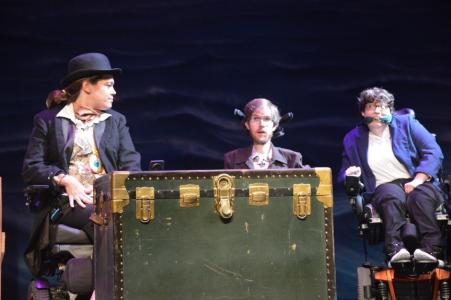 The actors of the AWB Senior program work tirelessly for twelve months to create a public performance in the fall, allowing actors to experience the benefit of learning the dramatic arts by performing in a live theatrical production. The ultimate triumphs are the self-esteem and lasting friendships that are created from working as a close-knit ensemble. 
Check out the AWB Seniors 2021 Performance of Anything Goes on YouTube!
The AWB live performance of Meet Me in St. Louis will be held on Sunday, April 3, 2022, at Centennial Hall, Haverford Boys School at 4pm. 
Follow the link to purchase tickets to the performance: https://events.r20.constantcontact.com/register/eventReg?oeidk=a07ej13kgi160e33a4c&oseq=&c=&ch=