Primary tabs
Cultural Alliance Welcomes First Lady Susan Corbett as Head of Arts Agency
Date Posted
April 15, 2011 - 10:43am

April 15, 2011
Karim Olaechea
Greater Philadelphia Cultural Alliance
karimo@philaculture.org; 215-399-3518
On Thursday, April 14th, Governor Corbett announced that First Lady Susan Corbett will serve as the head of the Pennsylvania Council on the Arts.
The Cultural Alliance is pleased to welcome First Lady Susan Corbett as the next chairwoman of the Pennsylvania Council on the Arts (PCA). Mrs. Corbett has a long and distinguished record working with the commonwealth's arts and cultural programs. She has served on the PCA for the past nine years, and was the vice president for programs and development for the Gettysburg Foundation. As the southeastern Pennsylvania regional partner of the PCA's Pennsylvania Partners in the Arts Program, the Cultural Alliance looks forward to continuing to work with Mrs. Corbett to ensure that arts and culture are available and accessible to all Pennsylvanians.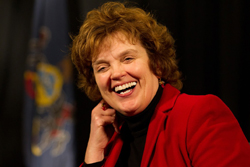 "Susan Corbett is a longtime partner in the cultural community and we are very happy to have her at the head of the PCA," explained Cultural Alliance President Tom Kaiden. "We look forward to Mrs. Corbett's leadership and will continue to work with her, investing in art programs that educate our children and lift up our communities."
The Pennsylvania Council on the Arts is a state agency founded in 1966. The mission of the PCA is to foster the excellence, diversity and vitality of the arts in Pennsylvania and to broaden the availability and appreciation of the arts throughout the state. The PCA makes grants to arts organizations, programs and projects that provide the people of Pennsylvania with opportunities to participate in the arts at every level and every age. Through its many regional partners, the PCA has made access to the arts more readily available throughout the state. The PCA also operates a statewide network of arts in education organizations to enhance education through the arts for Pennsylvania students.
About the Greater Philadelphia Cultural Alliance
The mission of the Greater Philadelphia Cultural Alliance is to make Philadelphia and its suburban counties one of the foremost creative regions in the world. The Cultural Alliance believes that the Greater Philadelphia region grows stronger and more vibrant by growing its Arts & Culture. Representing more than 400 member institutions, with more than 19,000 employees and 24,000 volunteers, the Cultural Alliance is able to speak as one collective voice for the region's cultural community. In addition to being a vocal advocate for the arts, the Cultural Alliance also offers member organizations an array of research, business management and marketing services specifically designed to help the sector expand the impact of its work for the region.
Photo credit: Commonwealth Media Services.
Link to photo: /sites/default/files/image/SMC.jpg
# # #