Primary tabs
Fun Packs Offering Great Deals on Theatre, Music, Arts and Culture on Sale Now
Date Posted
September 5, 2012 - 8:59am
Enjoy the Best the Region Has to Offer for Up to 50% Off
Philadelphia, PA -- On September 5th, Funsavers launches the 2012 Funsavers Fun Packs, featuring over four dozen exclusive offers on subscriptions, memberships and ticket packages that are discounted up to 50%.
Fun Packs go on sale Wednesday, September 5 and can be purchased through September 28. Offers are listed at www.funsavers.org and a complete list of participating organizations is listed below.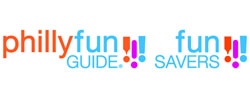 "Everyone is represented, from Parkway attractions like the Franklin Institute and the Art Museum, to dozens of theatres, gardens, art centers, film programs, musical groups and historic attractions," said John McInerney, a Vice President at the Greater Philadelphia Cultural Alliance, which runs Funsavers. "It is a great way to save money while experiencing firsthand why Philadelphia is on so many top ten lists across the country."
Funsavers Fun Packs provide discounts of up to 50% on a wide variety of cultural offerings. For example, the Opera Company of Philadelphia is offering a three show package of La Bohème, The Magic Flute and the premiere of Silent Night.  Normally, those three shows sold separately would cost $420.00. With the Funsavers Fun Pack, it costs only $225.00, a savings of 47%. On the lower cost end, the Philadelphia Museum of Art is offering six months of unlimited free admission, full member benefits and a free guest pass for only $35 (Value $55).
Funsavers, established in 2003, is one of the country's oldest and largest 'daily deal' sites, with over 110,000 email subscribers, and over 48,000 tickets sold annually.
"We stand out from the commercial discount sites because we are community-run and focused on supporting our members and engaging new audiences," said McInerney. "Last year we generated over $750,000 in income for cultural nonprofits and we are the only site that shares our consumer data with the participating cultural groups.  We also use that data to produce critical research for the field on cultural consumer behavior."
Funsavers also helps drive consumers to Phillyfunguide.com, the Cultural Alliance's full regional events calendar that includes full price offerings, free events and other special promotions. The Cultural Alliance recently launched a third consumer website, Phillyspacefinder.com, which offers detailed information on creative rental locations from hundreds of cultural groups in Greater Philadelphia. The site is perfect for organizations looking to put on performances and individuals looking for unique venues for events and parties. To learn more about the Cultural Alliance and its programs, visit www.philaculture.org.
Complete List of participating organizations below, full details on all offers at www.funsavers.org
Academy of Natural Sciences of Drexel University
The African American Museum in Philadelphia
The American Swedish Historical Museum
Arden Theatre Company
Astral Artists
Azuka Theatre
Bartram's Garden
Brandywine Ballet
The Brandywine Conservancy and Brandywine River Museum
Curtis Institute of Music
Delaware County Symphony
EgoPo Classic Theater
Fleisher Art Memorial
The Franklin Institute
Independence Seaport Museum
InterAct Theatre Company
Lantern Theater Company
LiveConnections.org
Luna Theater Company
Main Line Art Center
Mercer Museum
Morris Arboretum of the University of Pennsylvania
National Constitution Center
New City Stage Company
Opera Company of Philadelphia
Painted Bride Art Center
Pennsylvania Academy of the Fine Arts
People's Light and Theatre Company
Philadelphia Chamber Ensemble
Philadelphia Chamber Music Society
Philadelphia Film Society
Philadelphia Museum of Art
The Philadelphia Singers
Quintessence Theatre Group
Rosenbach Museum & Library
Running Wild Writers Community
Singing City
Smith Memorial Playground & Playhouse
Tempesta di Mare
Theatre Exile
Theatre Horizon
University of Pennsylvania Museum of Archaeology and Anthropology
Villanova Theatre
Walnut Street Theatre Independence Studio on 3
Walnut Street Theatre Mainstage
The Wilma Theater
World Affairs Council of Philadelphia
WST for Kids
Media Contact:
John McInerney, Vice President of Marketing & Communications
Ph: (215) 399-3515
Email: Johnm@philaculture.org