Special Panel to Explore Future of Arts & Cultural Journalism
Date Posted
January 22, 2013 - 9:22am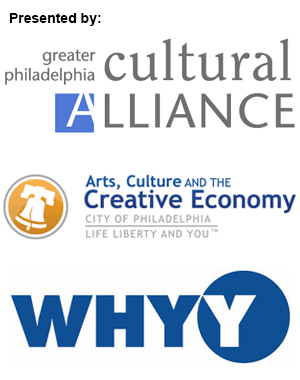 Media contact:
Karim Olaechea
PR Manager
Phone: 215-399-3518
Email: karimo@philaculture.org
Philadelphia, PA -- On Wednesday, February 20, the Greater Philadelphia Cultural Alliance, the City of Philadelphia Office of Arts Culture and the Creative Economy and WHYY present a special panel to discuss how arts and cultural journalism has changed in recent years and what the future may hold for the field.
The event begins with featured speaker Douglas McLennan of Arts Journal and the National Arts Journalism Program who will then join an expert panel that includes Bill Marimow of The Philadelphia Inquirer, Chris Satullo of WHYY and NewsWorks.org, Meredith Broussard of the University of Pennsylvania and Megan Wendell of Canary Promotion.
What: Plotting the Future of Cultural Journalism - Speaker Event and Panel Discussion (Breakfast Served)

When: Wednesday February 20, 2013. 8:30 a.m. to Noon at Hamilton Commons at WHYY
Where: 150 N. Sixth Street, Philadelphia
Cost: $10 Cultural Alliance members / $25 nonmembers
"Technology is changing journalism faster than almost any other industry", says Tom Kaiden, Cultural Alliance President and panel moderator. "With this panel, the community can speak directly with top journalists to explore how together we must evolve to engage readers and patrons."
>Click here to purchase tickets and see a list of RSVPs.
Featured Speaker:
Douglas McLennan - Founder and Editor of ArtsJournal.com, Acting Director of the National Arts Journalism Program


 

Douglas McLennan is an arts journalist and critic and the founder and editor of

 ArtsJournal.com

, the leading aggregator of arts journalism on the internet. Each day ArtsJournal combs through more than 200 publications worldwide and posts links to the best cultural stories. The 

New York Times

 says that "

ArtsJournal.com

 has added something important to cultural discourse." 

The Boston Globe

 calls 

ArtsJournal

 a "must read" for anyone with an interest in the arts.  Prior to starting 

ArtsJournal

, Mr. McLennan was arts columnist and music critic for the 

Seattle Post-Intelligencer

. A former concert pianist, he has a Master's degree in music from the 

Juilliard School

 in 

New York

 . He has performed in 

Asia

, 

Europe

 and 

North America

 and lived and worked in 

Italy

 and in 

China

 , where he spent a year as artist-in-residence at the Central Conservatory in 

Beijing

 .  He has written on the arts for numerous publications, including as music critic for

 Salon.com

, and his work has appeared in 

Newsweek

, 

The New York Times

, the 

Los Angeles Times

, 

Wall Street Journal

, the 

London Evening Standard

 and National Public Radio's

All Things Considered

, and is a contributor to the new edition of 

Baker's Biographical Dictionary of Popular Musicians

. He is executive director of the new Center for Arts, Media & Audience and 

USC

's 

Annenberg School

for Communications and Journalism, and just completed a year as a visiting professor in arts management at

Claremont Graduate University

. He is a frequent lecturer on arts and cultural issues.  He is a recipient of several awards for arts criticism and reporting, including a National Arts Journalism Program Fellowship at 

ColumbiaUniversity

 and a Deems Taylor/ASCAP Award for music journalism. He was named one of 100 Outstanding Graduates of the 

Juilliard School for the school's centennial. mclennan@artsjournal.com. He writes the blog Diacritical (www.artsjournal.com/diacritical

) and Tweets as @AJDoug
Panelists:
Bill Marimow - Editor of The Philadelphia Inquirer


 

Bill Marimow, the editor of The Philadelphia Inquirer, is a native Philadelphian, who has served as a reporter, editor and assistant to the publisher at the newspaper. Marimow has twice won the Pulitzer Prize – first, in 1978, for a series of stories written with a partner about criminal violence by Philadelphia police, and in 1985, for investigative reporting about the Philadelphia Police K-9 unit, whose dogs were attacking innocent, unarmed men and women.

At the start of his career, Marimow was a reporter at The Evening Bulletin and The Inquirer, where he covered economics, labor, state and federal courts and served as City Hall bureau chief. In 1993, Marimow joined theBaltimore Sun, serving as Metro Editor, Managing Editor and Editor in Chief. During his 11 years at The Sun, the newspaper won Pulitzer Prizes in feature writing, investigative reporting and beat reporting. After leaving The Sun, Marimow joined National Public Radio, where he was managing editor for national news and vice president for the news division.

In Nov. 2006, he joined The Inquirer as editor and led the newspaper until fall 2010. Eight months ago, Marimow rejoined The Inquirer as the editor after teaching at The Cronkite School of Journalism at Arizona StateUniversity.

A graduate of Trinity College, he also studied law in 1982-83 as Nieman Fellow at Harvard Law School. He is currently a member of the Trinity College board of trustees. Marimow is married to Diane, a sculptor and potter, who also works in the Education Department of the Philadelphia Art Museum. He has two children – Ann, a reporter at The Washington Post, and Scott, who is a principal at Providence Equity Partners.
Chris Satullo - Vice President of News and Civic Dialogue at WHYY
Chris Satullo joined WHYY in late 2008 as executive director of news and civic dialogue. At WHYY, he has been instrumental in developing the news and dialogue website NewsWorks.org and the companion radio program NewsWorks Tonight.

Before that, he was editorial page editor and columnist for The Philadelphia Inquirer. In 2007, he co-founded the Penn Project for Civic Engagement, which convenes forums to connect citizen concerns to journalism and politics.

He won the 2000 James F. Batten Award for Civic Journalism for a Citizen Voices project on city elections inPhiladelphia.  The Great Expectations project on the 2007 city elections won a 2008 National Headliners Award for journalistic innovation. He's won more than 40 awards for news writing, columns and editorials.

He's a graduate of Williams College and a former Fulbright Fellow.
Meredith Broussard – Lecturer at the University of Pennsylvania and 2012 USC-Getty Arts Journalism Fellow
Meredith Broussard's journalism has appeared in 

Harper's

, 

The Washington Post

, Slate, 

The San Francisco Chronicle

, 

The Philadelphia Inquirer

, 

Philadelphia

 magazine, and 

The Huffington Post.

 A contributing editor at 

Hidden City Philadelphia

, she was a 2012 USC-Getty Arts Journalism Fellow and led an award-winning team in the 2012 Civic Data Challenge, a data journalism competition. She has published two anthologies of strange and true stories about love gone wrong: 

The Dictionary of Failed Relationships

 (Three Rivers Press, 2003) and 

The Encyclopedia of Exes

 (Three Rivers Press, 2005). A former features editor at 

The Philadelphia Inquirer

, Broussard has received support from the Pennsylvania Council on the Arts. Prior to her career as a writer, she worked as a software developer at the MIT Media Lab and AT&T Bell Labs. A graduate of Harvard University, she holds an MFA from Columbia University and teaches at the University of Pennsylvania. 
 Megan Wendell - Founder and President of Canary Promotion

 

Megan Wendell has been championing the arts for over a decade as President of Canary Promotion, providing communications services for arts, culture and mission-driven clients. Established in 2001, Canary Promotion was founded and is run by people who are truly invested in the cultural, creative and nonprofit communities. The Canary team brings to each project over 15 years of experience working in various areas of the communications, journalism and arts fields.

Wendell has led campaigns for dozens of cultural organizations and artists in performing arts, visual art, design, higher education, heritage and history. She has worked on numerous projects, of both regional and national scope, funded by such granting organizations as The National Endowment for the Arts, The Pew Center for Arts & Heritage, The William Penn Foundation, the John S. and James L. Knight Foundation and the Philadelphia Cultural Fund.

She is a member of the Public Relations Society of America, has served on the Pennsylvania Council on the Arts Advisory Panel and Americans for the Arts convention marketing committee, and has participated in several professional development programs, including courses at the Wharton Small Business Development Center and the Forum of Executive Women mentoring circles.

Wendell regularly draws from her own artistic background as a musician who graduated from Berklee College of Music, launched several successful tours, nationally released and promoted albums and founded an independent record label.  She loves that her work gives her an opportunity to fully immerse herself in the amazing cultural community of Greater Philadelphia and beyond.
Moderator
Tom Kaiden – President, Greater Philadelphia Cultural Alliance
| | |
| --- | --- |
|   | Tom Kaiden joined the Cultural Alliance in 2001 and leads the Alliance's continuing efforts to promote the positive awareness and value of arts and culture and deliver high-quality services and professional development to 402 member organizations from the Greater Philadelphia region. Prior to joining the Cultural Alliance, Kaiden served as the executive director of the Stowe (Vermont) Area Association, a member-based tourism marketing corporation and Chamber of Commerce. He holds an MBA from Cornell University and a BA in Economics from the University of Connecticut. Click here for Tom Kaiden's full bio. |
Event Agenda
8:30 - 9:00 a.m.  – Breakfast and Registration
9:00 - 10:00 a.m. – Welcome and Featured Speaker
10:00 - 10:45 a.m. – Panel Discussion
10:45 - 11:15 a.m. – Audience Questions
11:15 a.m. - 12:00 p.m. – Networking
| | |
| --- | --- |
| | This program is part of the Cultural Alliance's research initiative, Creating Change, and is supported by a grant from the William Penn Foundation. |
 # # #