Primary tabs
Museums Now Free for Philadelphia High Schoolers
Date Posted
October 2, 2013 - 7:06am
Media Contact
STAMP Pass offers students free access to 12 museums and attractions
Philadelphia, PA -- Philadelphia high school students are now eligible for one year of free admission to 12 of the city's top museums and attractions thanks to STAMP: the Virginia and Harvey Kimmel Family Teen Program, a new program announced today by the Greater Philadelphia Cultural Alliance. The program will be launched at a special event hosted by the African American Museum in Philadelphia on October 4 from 3:30 to 5:30 p.m. Guest speakers at the event will include the City's First Lady Lisa Nutter, president of Philadelphia Academies, and Pennsylvania Representative Cherelle Parker.
Students who enroll in STAMP (Students at Museums in Philly) will receive the STAMP Pass, a card that they can present to get free out-of-school-time admission to some of the city's top museums and cultural venues. The STAMP Pass is available at no charge to teens age 14 to 19 who live in the city of Philadelphia. Teens can register for the pass by visiting www.phillystamppass.org.
To support the launch and make it easier to get to the museums, the Independence Visitor Center Corp. is providing free rides on the PHLASH trolley Downtown Loop throughout the month of October for teens showing their STAMP Pass.  
Participating museums and cultural institutions:
| | |
| --- | --- |
| African American Museum in Philadelphia | National Constitution Center |
| Barnes Foundation | National Museum of American Jewish History |
| Eastern State Penitentiary | Penn Museum |
| Fabric Workshop and Museum | Pennsylvania Academy of the Fine Arts |
| Institute of Contemporary Art | Philadelphia Museum of Art |
| Mutter Museum | Philadelphia Zoo |
"STAMP reflects the cultural community's collective effort to invest in the youth of Philadelphia," explains Cultural Alliance Interim Executive Director Michael Norris. "Our goal is to make sure that Philly teens have access to more of the city's incredible arts and culture and for them to think of arts and culture as something fun and interesting they can do in their leisure time."
"The cultural community in Philadelphia – institutions like museums and historical attractions – is a crucial partner for the City in our effort to provide quality programming for students outside of school," explained Philadelphia Mayor Michael A. Nutter. "The STAMP program meets a critical need by providing teens with valuable cultural experiences and activities that are both fun and safe."
The Cultural Alliance has recruited more than 40 community partners for the program from the city's youth-serving agencies to ensure that as many teens as possible are aware of STAMP and get the pass, especially underserved and at-risk teens.
In addition to the pass, the program has an online component with a website where teens can discover other cultural opportunities available to them, find out about job and internship opportunities and get invites to exclusive events for STAMP passholders. The website will be a platform to promote the teen programs of STAMP's community partners. STAMP will also have a lively presence on Twitter and Instagram.
To help create a program that resonates with Philadelphia teens, the Cultural Alliance established the STAMP Teen Council, a group of 11 high school students who have played an instrumental role in the program's development and branding. The council will continue to be a crucial part of the program, blogging on the website, posting to social networks and helping to promote the program to their friends and fellow students.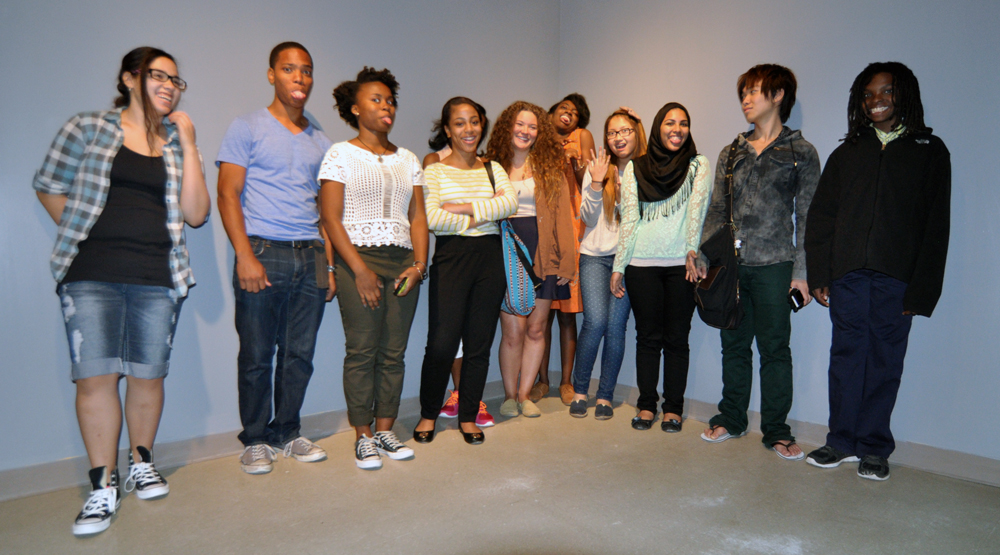 STAMP has been more than a year in the planning and is generously underwritten by Virginia and Harvey Kimmel and by grants from the John S. & James L. Knight Foundation, the National Endowment for the Arts and the Philadelphia Foundation's Fund for Children. The launch event on October 4 is generously sponsored by Wells Fargo. In year one of the program, 12 of Philadelphia's most popular museums and cultural institutions are participating. The Cultural Alliance hopes to expand the program in future years until all arts and culture is free and accessible for Philadelphia's high school students.
STAMP fills a void in the kinds of cultural programs available to Philadelphia's older youth. Many cultural education programs target younger children when they are first developing cultural preferences, lifelong learning habits and crucial social skills. With far fewer programs aimed at high schoolers and older teens, and cuts to public education and afterschool programs, older teens are falling through the cracks.
About the Greater Philadelphia Cultural Alliance
The Greater Cultural Alliance is a leadership organization of more than 400 nonprofit arts and cultural institutions located primarily in the five counties of southeastern Pennsylvania. Its mission is to make Greater Philadelphia one of the foremost creative regions in the world. The Cultural Alliance believes that Greater Philadelphia grows stronger and more vibrant by growing its arts and culture. The Alliance's work promotes that mission through initiatives that leverage arts and culture to inspire individuals and build community and civic engagement. These efforts include connecting cultural resources to community needs; providing direct services for nonprofit cultural organizations; leading cultural research, advocacy and policy work; and producing direct marketing programs for cultural consumers.
The Cultural Alliance's work reflects these key principles: Arts and culture is an engine for economic growth. It has the power to elevate lives. It has the power to educate. We own it, as residents of the Greater Philadelphia region, because it comes from us. It helps individuals come together and grow as a community.