Primary tabs
Artists, Musicians and Performers Take Over City Hall for Second Annual Philadelphia Arts Advocacy Day
Date Posted
March 31, 2015 - 6:23am
Categories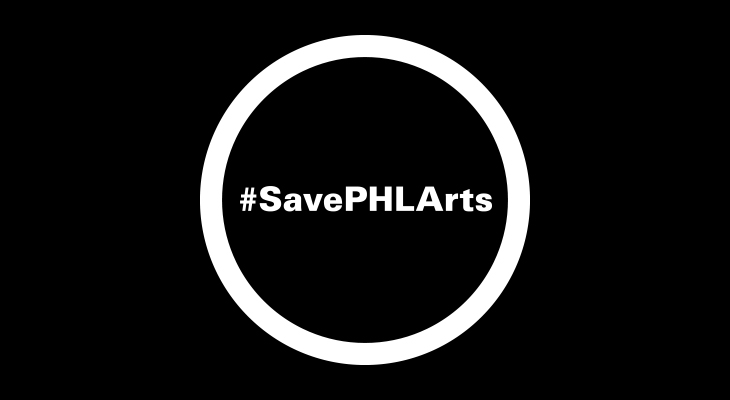 Philadelphia--On Tuesday, April 7, GroundSwell (a program of the Greater Philadelphia Cultural Alliance) will lead artists and arts advocates in demonstrations at City Hall for the second annual Philadelphia Arts Advocacy Day. This year's Advocacy Day focuses on Mayor Michael Nutter's proposed 40% budget cut for the Philadelphia Cultural Fund in FY16.
From 11am-1pm, GroundSwell and the Philadelphia Cultural Fund will stage pop-up acts of arts & culture throughout the City Hall. Scheduled activities include a collaborative painting project with the City of Philadelphia Mural Arts Program, and performances by PCF grantees. The intent is to make a statement to City Council, and draw greater public attention to the threat facing Philadelphia's vital artistic community.
"In 2007, Mayor Nutter made a campaign promise to increase the PCF budget to $6 million. Year after year since, not only have we not seen that increase, but we've had to fight back against even more cuts," says Maud Lyon, President of the Greater Philadelphia Cultural Alliance. "Our GroundSwell program is encouraging arts advocates to speak out and let City Council know that this is unacceptable, and at very minimum, we must maintain level funding for PCF. Cutting the budget this year wouldn't just hurt PCF grantees; it would also kill PCF's Youth Arts Enrichment grants, which provide project support for arts education programs serving K-12 students in the Philadelphia School District. In a time when the Philadelphia School District is still in crisis, we simply cannot afford to eliminate this service to our students."
The Mayor's FY16 proposal of only $1.84 million for the Cultural Fund would slash its budget by $1.3 million, back to the level arts & culture advocates successfully restored it from last year with help from City Council. GroundSwell and its supporters are asking City Council members to once again push back against the Mayor, and protect the investment they made in arts and culture last year for FY15.
"The Mayor's proposed cut would affect artists, cultural organizations, individuals, families and students in all neighborhoods across the city," says Lois Welk, Interim Executive Director of the Philadelphia Cultural Fund. "PCF grants don't just go to the large institutions in Center City; they also help small and volunteer-run organizations that provide essential services to their communities. We are calling on City Council to ensure that the Mayor's proposed cuts to this vital funding do not make it into the final city budget for FY16."
In addition to the pop-up actions at City Hall on April 7, GroundSwell is encouraging advocates to take action online by emailing their City Council members and tweeting #SavePHLArts messages of support through June, when the final budget will be decided.
For more information on Philadelphia Arts Advocacy Day, including a full schedule of planned pop-up acts of arts & culture at City Hall, please contact Alison Zeidman at alisonz@philaculture.org or 215-805-5737.
ABOUT GROUNDSWELL
In January 2013, the Greater Philadelphia Cultural Alliance launched a new grassroots advocacy and community engagement initiative, GroundSwell, which works to expand the cultural sector's base of engaged grassroots advocates by giving residents a chance to learn about and participate in activities that are improving communities around the region. GroundSwell's work aligns arts and culture with other quality-of-life partners (parks, trails, libraries). For more information, visit www.GroundSwellPA.org.
ABOUT THE GREATER PHILADELPHIA CULTURAL ALLIANCE
Established in 1972, the Greater Philadelphia Cultural Alliance is the region's leading arts and cultural advocacy, research and marketing organization. Our mission is to "lead, strengthen and give voice to a diverse cultural sector that is making Philadelphia a world-class region to live, work, and play."  Our membership includes over 400 organizations ranging from museums and dance companies to community art centers, historic sites, music ensembles and zoos. Our members, as well as the cultural community as a whole, count on the Alliance for signature research reports on the health and growth of the sector; grantmaking in partnership with the Pennsylvania Council on the Arts; robust professional development and membership services; marketing and audience development through our signature consumer marketing programs, Phillyfunguide.com and Funsavers; and leadership in policy and community engagement through our GroundSwell advocacy initiative and STAMP teen program. For more information on the Cultural Alliance, please visit www.philaculture.org.