Primary tabs
Students to Make Third Plea to City Council to Protect Budget for Arts Education
Date Posted
June 8, 2015 - 10:59am
Categories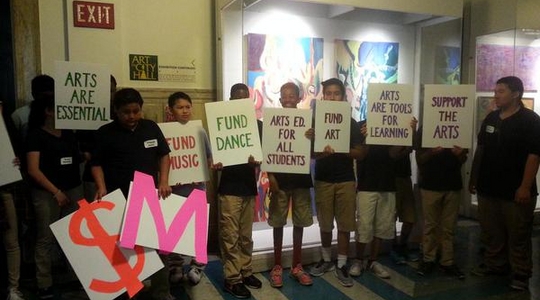 Philadelphia—On Thursday, June 11, GroundSwell (a program of the Greater Philadelphia Cultural Alliance) and Public Citizens for Children and Youth (PCCY) will organize a group of public school students in demonstrations at City Hall, asking City Council members to commit to $105 million for schools and arts education in the FY2016 City budget. 
At 9:30 a.m. students from William Cramp Elementary will parade through City Hall with "Save the Arts in Schools" signs and oversized cardboard cutouts of artistic tools, then present City Council members with rulers and art supplies to add to their "creative toolkit" to find a solution for Philly schools. 
During the public testimony period of the Council meeting, three professional actors will also perform monologues from School Play, a documentary-based live theatre piece about Pennsylvania's education crisis. A pop-up performance will also be staged outside in the courtyard of City Hall. For more information about School Play, including other planned pop-up performances throughout the state on June 11, visit http://www.pccy.org/initiatives/school-play/.
"It's no secret that Philadelphia schools are struggling, especially when it comes to arts education," said Donna Cooper, Executive Director of PCCY. "Out of 218 schools, only 174 have a visual art teacher, and only 25 have school-based instrumental music teachers. And even then, two-thirds of those teachers don't have any budget for supplies, or their own classrooms. PCCY's Picasso Project grants help facilitate partnerships between schools and arts and culture organizations to bring in outside arts programming, but we can only reach so many schools. The City needs to step up."
June 11 will be the third effort to appeal to Council members to ensure proper funding for education in the FY2016 budget. On May 27, Andrew Jackson Elementary students gave Council members paintbrushes to "paint a better picture for arts education," and on June 4 Powell Elementary students showed their concern for the state of education funding by giving Council "worry bead" bracelets they made during workshops with the University City Arts League. Students have also testified before Council during City budget hearings and performed short arts advocacy plays in the halls outside Council's caucus room.
Research shows that with accessibility to the arts, students develop their imaginations and decision-making skills; are excited to attend school; have more success in STEM classes; achieve higher scores on the SAT; and have more success graduating college and finding employment.
"The lack of accessibility to art and music in Philadelphia schools is shocking," said Maud Lyon, President of the Greater Philadelphia Cultural Alliance. "We need City Council to approve this $105 million education budget so the School District can close these devastating arts education gaps in the short-term, but it's disheartening to know that next year we'll likely find ourselves in the same fight. What we really need is for the next Mayor and Council to work together towards a long-term solution."
In addition to the demonstration at City Hall on June 11, GroundSwell and PCCY are also encouraging students, parents and advocates to take action by signing an online petition to City Council and tweeting messages about the importance of art and music education with hashtag #PHLArtsEd. More details and a link to the petition can be found at www.GroundSwellPA.org.
For more information on GroundSwell and PCCY's arts education advocacy work, including a full schedule of planned activities at City Hall on June 11, please contact Alison Zeidman at alisonz@philaculture.org or 215-805-5737.
ABOUT GROUNDSWELL
In January 2013 the Greater Philadelphia Cultural Alliance launched a new grassroots advocacy and community engagement initiative, GroundSwell, which works to expand the cultural sector's base of engaged grassroots advocates by giving residents a chance to learn about and participate in activities that are improving communities around the region. GroundSwell's work aligns arts and culture with other quality-of-life partners (parks, trails, libraries). For more information, visit www.GroundSwellPA.org.
ABOUT THE GREATER PHILADELPHIA CULTURAL ALLIANCE
Established in 1972, the Greater Philadelphia Cultural Alliance is the region's leading arts and cultural advocacy, research and marketing organization. Our mission is to "lead, strengthen and give voice to a diverse cultural sector that is making Philadelphia a world-class region to live, work, and play."  Our membership includes over 400 organizations ranging from museums and dance companies to community art centers, historic sites, music ensembles and zoos. Our members, as well as the cultural community as a whole, count on the Alliance for signature research reports on the health and growth of the sector; grantmaking in partnership with the Pennsylvania Council on the Arts; robust professional development and membership services; marketing and audience development through our signature consumer marketing programs, Phillyfunguide.com and Funsavers; and leadership in policy and community engagement through our GroundSwell advocacy initiative and STAMP teen program. For more information on the Cultural Alliance, please visit www.philaculture.org.
ABOUT PCCY
Public Citizens for Children and Youth (PCCY) works to improve the lives of our region's children by developing initiatives and advocating for quality health care, child care, public education and family stability.  Through comprehensive research and the tools of advocacy to mobilize partner organizations and citizens across the region, PCCY works to change the lives of children for the better. For more information, visit www.pccy.org.