Primary tabs
Beyond the Check: A Roadmap for Engaging Individual Donors
Date Posted
April 8, 2018 - 9:34am
Categories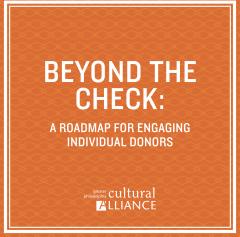 Beyond the Check is the Cultural Alliance's first look at giving to arts and culture by high-net-worth individuals in our region. With The Melior Group and AFE Strategies, the Alliance explored the disconnect between the wealth in Greater Philadelphia and the declining support for the cultural sector. The research included a comprehensive literature review, a survey to donors of our member organizations and 13 interviews with high-net-worth philanthropists who do not support the arts.
There were four key themes that cut across all components of the research:
DONORS SUPPORT CAUSES ABOUT WHICH THEY ARE PASSIONATE.
These causes most frequently include education, religion, human services and social justice. However, there is insufficient awareness of how these issues intersect with arts and culture.
DONORS ARE NOT MONOLITHIC.
Differences in generation, race, gender and sexual orientation drive the issues donors care about, their approaches to giving and ways they engage with nonprofits.
DONORS RESPOND TO MEANINGFUL ENGAGEMENT BEYOND THEIR CHECKBOOKS.
Personal connections and ways to contribute time and expertise are important. This is especially important among high-net-worth individuals and millennials.
DONORS INVEST IN TRANSPARENT ORGANIZATIONS.
They look for organizations where they feel confident that there is strong leadership and sound financial management.
Based on these themes, there are a number of recommendations for arts and culture organizations to begin engaging new donors:
Prioritize the social impact of your work and how it intersects with causes donors care about, such as education, human services and social justice.
Engage everyone in messaging your social impact consistently across all channels, including fundraising, marketing, programming and board.
Develop strategies and capacity to engage potential donors, connecting their skills and ideas to your work.
Invest in ways for the next generation to have an impact in the short term in order to build long-term relationships and support.
Diversify fundraising staff and empower them to think strategically about outreach to and engagement of diverse donors.
Foster a culture of transparency throughout the organization, particularly around financial management and leadership.
There are also three recommendations for arts and culture sector-wide:
Document the social impact of arts and culture and communicate its relevance within our communities and with the causes about which donors are passionate.
Celebrate the wide range of individual donors who support arts and culture and articulate the need for broader support
Raise awareness of the full breadth and diversity of the arts and culture sector.
This research shows that a key to success is showing your impact on the communities you serve – from children to the elderly, from healthcare to schools and everything in between. When donors see the arts as a solution to community needs, they give more and more often.
Learn More:
Watch Kelli Paul,Vice President of Development, speak about the report on Comcast Newsmakers:
Special thanks to the Wyncote Foundation for making this report possible.