Primary tabs
TechniCulture Innovation Residency Awards
Exploring the convergence of technology and culture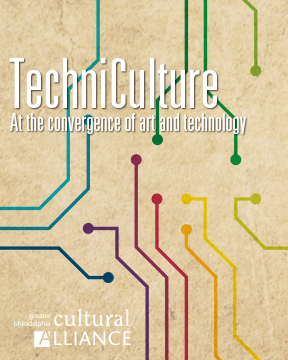 TechniCulture Innovation Residency Awards
Announced at the TechniCulture event that the Cultural Alliance hosted during Philly Tech Week in April, the Innovation Residency Awards will help to foster unique collaborations between cultural organizations and technologists or digital agencies. The awards are the next phase of our TechniCulture initiative, which is designed to deepen the mutually beneficial convergence between arts and culture and the tech/entrepreneurial community.
Based on feedback we gathered from event attendees and our TechniCulture Advisory Committee, the awards will allow three cultural organizations to participate in micro-residencies with experienced technologists, who will help them assess and focus their immediate digital needs to most effectively serve their mission. The goal of the residencies, valued at $2,000 each, is for each organization to emerge with a clear understanding of what type of digital project or application is best suited for them at this time. 
"A lot of the feedback we heard from our 2015 TechniCulture event was that though the cultural community is eager to innovate, the biggest obstacle to breaking into the digital arena isn't just funding—for many, it's not knowing where to even begin," said Maud Lyon, President of the Greater Philadelphia Cultural Alliance. "This award is a great opportunity for an organization that has the will and passion to innovate, but doesn't have the capacity or resources to take the first step." 
Once the residencies are completed, the Cultural Alliance will host a design challenge where hand-picked teams of technologists, coders and arts administrators will explore and develop each project concept. The three developed concepts will be presented to the public at the 2016 TechniCulture event, which once again will be held during Philly Tech Week. Attendees will vote on their favorite project, and the winning project will receive $5,000 in pro-bono legal services to support the further development of the project.
Eligibility
The TechniCulture Innovation Residency Awards are open to current Cultural Alliance member organizations with an operating budget of $1 million or less.
Timeline
Monday, June 15: online application process opens 
Friday, August 21: application deadline
Wednesday, September 30: residencies announced 
October-December: residencies take place
February: teams assembled for design challenge 
March: design challenge held (date and location TBD)
Friday, April 29: 2016 TechniCulture event during Philly Tech Week
FAQs
Q: Who gets the $2,000?
A: The $2,000 residency stipend will be awarded to the individual technologist or the digital agency assigned to each cultural organization.
Q: How many residencies are there?
A: Three organizations will receive a residency.  
Q: How many hours is the residency?
A: At least 80 hours over the three month period.
Q: Who should participate in the residency?
A: Depending on the size of your staff, we recommend that 2-3 people participate in the residency and that one of those people should be your executive officer and one be in development or grant writing. The technologist will want to get a full picture of your organization so he or she can guide you into which area seems especially ripe for digital innovation. 
Q: Why can't larger cultural organizations apply?
A: Our TechniCulture Advisory Committee felt strongly that award funds should be focused on smaller organizations, which are often under-resourced in terms of technology.
Q: How will the residencies be selected?
A: We're forming a selection committee comprised of members of our TechniCulture Advisory Committee and other experts, who will look for organizations that demonstrate a clear passion for innovation and a commitment to the residency process.
Q: Will the Innovation Residency Award fund our project?
A: No, the awards are designed to fund the research and development of your project which will prepare your organization to fundraise for development and implementation.
Q: Can I participate in the design challenge if I don't apply for a residency?
A: Absolutely! Anyone who's interested in using their skills and knowledge to help develop the residency projects at the design challenge is welcome to let us know, and we will do our best to accommodate everyone. Contact Tracy Buchanan at (215) 399-3525 or tracyb@philaculture.org. 
Q: I'm a techie type. How can I be involved? 
A: There are two primary ways for people in the tech/startup/entrepreneurial community to be involved. You can be considered for one of the residencies, or you can participate in the design challenge . Click here or contact Tracy Buchanan at (215) 399-3525 or tracyb@philaculture.org to get involved.
If you have other questions about the TechniCulture Innovation Residency Awards, please contact Tracy Buchanan at (215) 399-3525 or tracyb@philaculture.org. 
The Cultural Alliance gratefully acknowledges the following organizations and individuals for their support of the TechniCulture Innovation Residency Awards: Morgan Lewis, Safeguard Scientifics, the University City Science Center, Emily Goodman, Bob Moul, Danielle Cohn, Dave Gloss, Ivy Silver, Longwood Gardens and P'unk Ave.