GroundSwell & Musicopia Bring 'Gift of Music' to Phila, Chester-Upland Students
Date Posted
February 4, 2013 - 7:32am
Media contact:
Karim Olaechea
PR Manager
Phone: 215-399-3518
Email: karimo@philaculture.org
Philadelphia, PA -- GroundSwell, a new grassroots campaign launched by the Greater Philadelphia Cultural Alliance, is partnering with Musicopia on a donation drive to bring musical instruments to students in the Philadelphia and Chester-Upland school districts. Despite the fact that arts and music classes have been shown to improve student attendance and performance across subject areas, they are often the first to be cut from school curriculums when budgets are tight.
Musicopia runs the Gift of Music program, and GroundSwell will leverage its community partnerships to run a musical-instrument drive between now and February 28th. GroundSwell will communicate to its supporters and the general public through social networking and email outreach, and several local musical organizations will promote the drive to their audiences. Organizations that will be participating in the donation drive include Black Pearl Chamber Orchestra, Mendelssohn Club of Philadelphia and the Philadelphia Boys Choir and Chorale.
"We know that people who love and attend live music are more likely to be musicians themselves," explained Nancy DeLucia, Director of Policy and Community Engagement at the Cultural Alliance. "If you have a saxaphone that is just gathering dust on a shelf, wouldn't you rather put it in the hands of the next Coltrane?"
>Clilck here to donate an instrument.
Donors can drop new or gently used instruments off at the offices of the Cultural Alliance at 1315 Walnut Street, Suite 732 in Center City Philadelphia anytime between now and February 28th (9:00 a.m. to 5:00 p.m. Monday-Friday). All musical instruments collected will be distributed by Musicopia to students in the Philadelphia and Chester-Upland school districts. Since the Gift of Music program began in 2002, over 900 instruments have been placed with students in need.
"Musicopia's Gift of Music Instrument Donation program speaks to the heart of our vision that all students should have the opportunity to learn any instrument of their choosing," states Denise Kinney, Executive Director of Musicopia. "This partnership with Groundswell offers us a tremendous opportunity to expand our efforts to bring instruments to children who are eager to play."
Music education has been shown to improve student performance on standardized tests and in the subject areas of math and reading. The "Reinvesting in Arts Education" study released by the Presidents Council on the Arts and the Humanities finds that arts is part of a well rounded educations and is particularly effective at raising achievement in math and reading. A study in Nature Neuroscience from April 2007 found that playing a musical instrument can "fine-tune" the brain's auditory system and improves speech and linguistic performance. Other research has found that learning in the arts and music nurtures motivation, including active engagement, disciplined and sustained attention, persistence and risk taking. It also increases attendance and educational aspirations. (For more research on the benefits of music education, click here.)
"There is no way to adequately express the positive impact these instruments have had on the students at Arise," says Patti Stewart, Director of Partnerships at Arise Academy Charter High School. "Most of our students do not have access to anything like what has been provided by Musicopia and often it is only through the artistic outlets provided by our arts programs that our students are able to creatively express the depth of their emotional lives."

About GroundSwell
GroundSwell is a grassroots movement to make Philadelphia a better place to live, work and play. Powered by the Greater Philadelphia Cultural Alliance, GroundSwell unites residents and organizations in order to leverage arts and culture, libraries, parks and public space to enhance the quality of life in our region. GroundSwell invites residents to Do Something Good for a Change and to become a part of a growing community that's taking action for a greater Greater Philadelphia. For more information on GroundSwell, visit: groundswellpa.org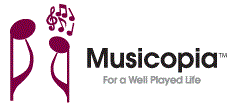 About Musicopia
Musicopia is a nonprofit organization that works with approximately 100 of our region's professional musicians to present a wealth of music education programs. Musicopia is also the leading advocate for restoring and improving in-school music instruction throughout the Greater Philadelphia area. Founded in 1974 as "Strings for Schools," the organization once focused primarily on classical string music. Now Musicopia provides assemblies, workshops and long-term residencies that span a huge range of musical traditions. For more information on Musicopia, visit: musicopia.net