STAMP: The Virginia and Harvey Kimmel Family Teen Program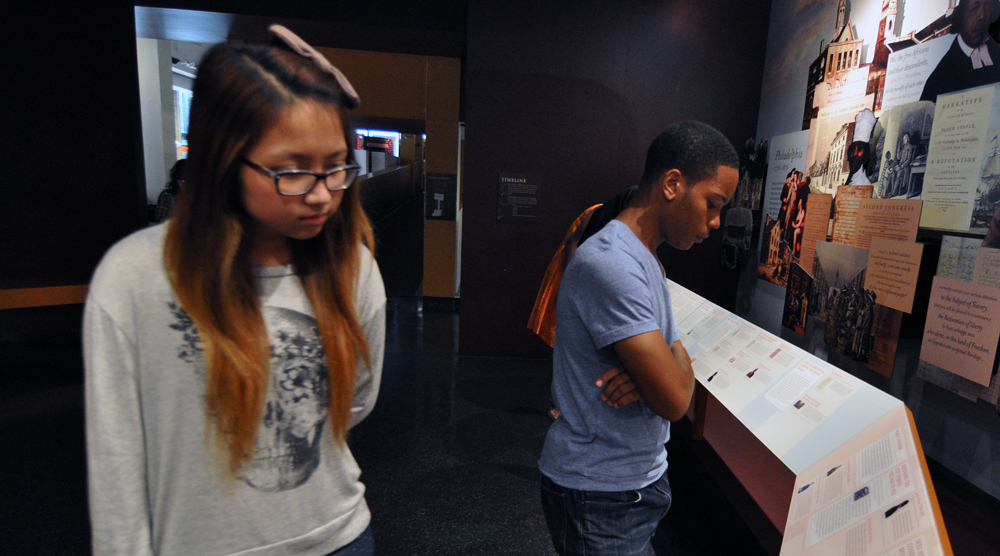 STAMP (Students at Museums in Philly) is a program of the Greater Philadelphia Cultural Alliance, in partnership with 22 museums and attractions and a group of generous sponsors and community organizations.

Our Mission
We want to increase teens' access to all of the incredible arts and culture Philadelphia has to offer, as a means to discovering their own identities and including culture in their menu of leisure-time options (as we like to say: "a movie, a mall, a museum!"). We want to change teens' perception of museums as places they're not welcome, or somewhere you only go if you're told you have to, like on a field trip. There are three main elements of STAMP:
 
The STAMP Pass
The STAMP pass is FREE and available to any Philadelphia teen between the ages of 14 and 19 and is valid for FREE admission to a selection of the city's top museums and attractions:
The Academy of Natural Sciences of Drexel University
African American Museum in Philadelphia
Bartram's Garden
The Barnes Foundation
Betsy Ross House 
Eastern State Penitentiary
Fabric Workshop & Museum
The Franklin Institute
Independence Seaport Museum
Institute of Contemporary Art
La Salle University Art Museum
Museum of the American Revolution
Mütter Museum of the College of Physicians of Philadelphia
National Constitution Center
National Liberty Museum
National Museum of American Jewish History
Penn Museum
Pennsylvania Academy of Fine Arts
Philadelphia History Museum at Atwater Kent
Philadelphia Museum of Art
Philadelphia Zoo
The STAMP Teen Council
Every step of the way with STAMP, we have our Teen Council to guide us. A group of 8 teens from all over Philadelphia keep up with the latest news at STAMP museums on our website, Twitter and Instagram pages and also regularly give us their input on how to make arts and culture more appealing to teens, spread the word about STAMP, and more.
 
The STAMP Website
The STAMP website is our one-stop portal for the program, with all the information you need to sign up for the pass and where it's valid, plus updates on special events, job and internship opportunities for teens in the cultural community, teen classes and programs around the city, information on teen lounges and other safe hang-out spots, blog posts from our Teen Council and more.
 
Partnering with STAMP
Is your organization a nonprofit organization interested in providing Philly teens with free tickets for a cultural event or performance? STAMP has recently partnered with the University of the Arts, the Arden Theatre Company, Asian Arts Initiative, The Philadelphia Film Society, the Lantern Theater Company and more, and  is actively looking for new collaborations and partners.  If you have an idea for partnering with STAMP, contact the STAMP team at STAMP@philaculture.org.  
 
STAMP in the News
Local Teens Record Audio Tours to Get Youth Interested in Philly's Museums 
Teens Craft Audio Tours for Philly Gallaries and Museums
STAMP On The Parkway Celebrates The City's Museums with A Free Museum Scavenger Hunt
STAMP Gives Philly High Schoolers Free Access To City's Top Museums Attractions
Teens STAMP(ede) to Philly's Museums
Teens get free passes to Philly museums
New pass gives teens free entry to museums
Free museum access for Philadelphia students
STAMP is made possible by a leadership gift from Virginia and Harvey Kimmel. Additional support is provided by the Hess Foundation, Wells Fargo and Wyncote Foundation.